Loquaci Family's Secret Ingredient BBQ Sauce Recipe
This incredibly flavorful BBQ sauce recipe makes a perfect complement to virtually anything you put it on. The deep flavor comes from a not-so-secret ingredient. At least it's not a secret to those who know grilling enthusiasts and California farmers Dave and Joan Loquaci – anyone who eats at their home knows prunes could be on the menu, since their family grows lots of them. (Pro tip if you're invited over: they grow winegrapes too.)
The California prune puree adds a deep, sweet richness to the barbeque sauce that has everyone asking for the "secret recipe" – which they shared with us, so we can share it with you.
Here's what you need to make this easy homemade BBQ sauce recipe:
olive oil
tomato puree
tomato paste
brown sugar
balsamic vinegar
cider vinegar
Worcestershire sauce
yellow mustard
onion powder
garlic powder
cumin
salt
water
butter
a medium-sized sauce pan
Don't have prune puree on hand? No worries. Just blend 16oz of prunes with 1/2 cup of hot water, and there you go. The puree is perfect for adding flavor, sweetness and nutrition to all kinds of foods, including smoothies, baked goods, chili, and sauces – including this BBQ sauce recipe.
What should you serve this homemade BBQ sauce with?
The Loquacis serve this sauce most often on barbeque pork ribs or pulled pork, but it's also perfectly at home on grilled or pulled chicken, as a dipping sauce, or over meatballs for a next-level appetizer. Looking for a sauce for BBQ Chicken Pizza or Brunswick Stew? This easy BBQ Sauce recipe can do that too.
Do you need to use a rub with this easy Barbeque Sauce recipe?
Most meats benefit from a spice rub prior to hitting the smoker or grill. While just a healthy dose of salt & pepper will do, the Loquaci family goes a step further, particularly with ribs. Joan makes a blend of salt, pepper, onion and garlic powder, paprika and oregano, similar to Emeril Lagasse's famous "Essence" spice blend, and coats the ribs in the spice mixture prior to cooking.
When should you add BBQ sauce to the meat?
Any good grill master will tell you that the sauce needs a little caramelization! Any sauce with sugar in it, like this BBQ sauce recipe, should be brushed onto the meat for the final few minutes of cooking, usually after the meat has reached within 5 degrees of the final cooking temperature. You can always add more sauce when serving, but you'll want to be certain the sauce is only caramelizing – not burning.
How do prunes make BBQ better?
Prune juice and prune puree make a great base for marinades and glazes for meats or roasted vegetables. The natural sweetness and tanginess of prunes and prune juice can add depth and flavor to your dishes. Plus, prune juice and prunes contain natural phosphates – the very thing competitive BBQ folks inject into their meat to retain moisture and create a tender product.
Loquaci Family's Secret Ingredient BBQ Sauce Recipe
Loquaci Family
This incredibly flavorful BBQ sauce recipe makes a perfect complement to virtually anything you put it on. The deep flavor comes from a not-so-secret ingredient. At least it's not a secret to those who know grilling enthusiasts and California farmers Dave and Joan Loquaci – anyone who eats at their home knows California prunes could be on the menu, since their family grows lots of them. 
This easy BBQ Sauce recipe is perfect for grilled meats, on pulled chicken or pork, as a dipping sauce, or anything you'd use barbeque sauce for!
Cook Time
45

minutes
mins
Ingredients
1

TBSP

olive oil

1

cup

tomato puree

1/4

cup

tomato paste

1/2

cup

packed brown sugar

1/2

cup

prune puree

1/4

cup

balsamic vinegar

1/4

cup

cider vinegar

3

TBSP

Worcestershire

1

TBSP

yellow mustard

2

tsp

onion powder

1

tsp

garlic powder

1

tsp

cumin

1

tsp

salt

3/4

cup

water

4

TBSP

butter

½ cube
Instructions
In a medium saucepan, add all ingredients (except butter) and mix well.

Start at medium heat for about 5 minutes, then reduce heat to low until it thickens – about 45 minutes to an hour.

Stir in the butter, remove from heat and allow to cool.
Video
Notes
Store sealed in the refrigerator for up to 10 days. 
Nutrition
Calories:
121
kcal
Carbohydrates:
19
g
Protein:
1
g
Fat:
5
g
Saturated Fat:
3
g
Polyunsaturated Fat:
0.3
g
Monounsaturated Fat:
2
g
Trans Fat:
0.2
g
Cholesterol:
10
mg
Sodium:
348
mg
Potassium:
272
mg
Fiber:
1
g
Sugar:
15
g
Vitamin A:
374
IU
Vitamin C:
4
mg
Calcium:
28
mg
Iron:
1
mg
Keyword
BBQ Sauce, Heritage Recipes
Here are a few more recipes to try:
California Prune Mostarda is an incredibly versatile sweet and sour condiment that elevates any dish. It's a perfect accompaniment for anything from pork to cheeses to sandwiches. This mostarda recipe was created by Kat Turner, Chef Partner of Highly Likely Café in Los Angeles, CA – where it's served on their "Good Turkey Sandwich".
Easy enough for a weeknight, but elegant enough to serve to guests, these Sweet and Spicy Chicken Legs from Top Chef All Star Stephanie Cmar are always a hit.
Even better – they can be on the table in about a half hour!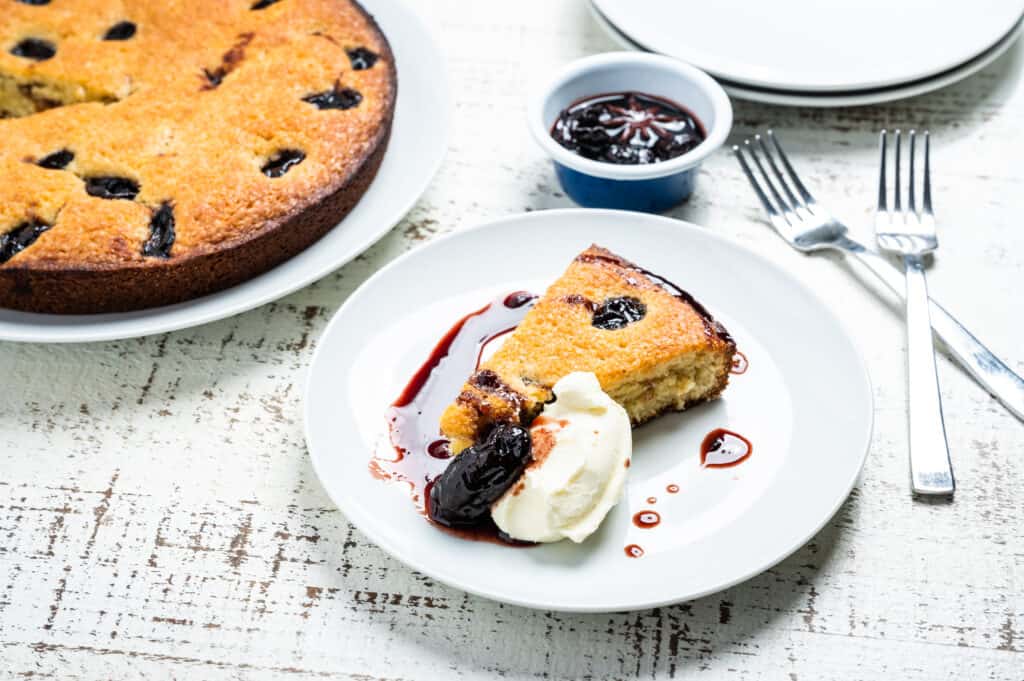 Claire Saffitz's tangy-light mascarpone cake is studded with sweet, flavorful prunes simmered in red wine. It's the kind of recipe that will make a dessert person out of anyone (if you know you know…check out Claire's cookbook).
Given that the Loquacis grow winegrapes too, this cake would be the perfect dessert to follow ribs coated in their homemade Secret Ingredient BBQ sauce recipe!