Vietnamese Banh Mi Sandwich with Turkey Meatballs
Vietnamese Banh Mi Sandwiches are are all the rage, and this version with turkey meatballs is sure to become one of your favorites. California Prune purée gives these spicy meatballs their moist texture without adding fat.
What does banh mi mean?
"Banh mi" is the Vietnamese word from bread but also refers to a special type of sandwich that resulted from the fusion of French and Vietnamese cultures. In the 19th century, during the age of Imperialism, Vietnam was colonized by the French. This lasted for over 60 years, and over time, part of French culture – like their love of baguettes – were assimilated into the Vietnamese way of life.
What is a banh mi sandwich
Banh mi is a unique spin on a traditional French sandwich. This is where things get a little confusing. Banh mi is the word used for both the sandwich AND for the bread used to make the sandwich. Bahn mi (the bread) is similar to a baguette, but typically made with a combination of wheat and rice flour. The bread is then filled with a combination of meats, fresh or pickled vegetables, herbs and spreads. There are countless variations, and no "wrong" way to make this fabulous sandwich.
Is bahn mi healthy?
These meat and veggie sandwiches can be part of a healthy diet. Our version calls for turkey meatballs made with prune purée. This keeps the turkey moist, and adds flavor and valuable nutrients and fiber to the dish. Cilantro, jalapeño and pickled vegetables add flavor and crunch and a spicy Sriracha mayonnaise spread is the finishing touch.
Vietnamese Turkey Meatball California Prune Banh Mi Sandwich
Vietnamese Banh Mi Sandwiches are all the rage and this version with turkey meatballs is sure to become one of your favorites. California Prune purée gives these spicy meatballs their moist texture without adding fat.
Prep Time
25

minutes
mins
Cook Time
15

minutes
mins
Total Time
40

minutes
mins
Ingredients
1

pound

ground turkey

1/4

cup

prune puree

1/4

cup

chopped canned water chestnuts

3

tablespoons

finely chopped green onions

2

teaspoons

fish sauce

1

tablespoon

minced garlic

1

teaspoon

sriracha sauce

1/2

teaspoon

kosher salt

5

baguette sandwich rolls

8-10 inches long or 4 (8-10-inch) pieces of baguette

2

jalapeño chiles

thinly sliced (seed if desired)

20

sprigs cilantro

Sriracha mayonnaise

recipe below

Carrot and daikon pickles

recipe below
Instructions
In a large bowl, mix turkey, prune puree, water chestnuts, green onions, fish sauce, garlic, sriracha sauce, and salt. Chill for 30 minutes to make it easier to form into balls.

Heat oven to 350°F (180C). Divide the meatball mixture into 20 portions. Moisten your fingers with water and gently roll the mixture into balls. Place on a rimmed baking sheet. Bake meatballs about 15 minutes or until cooked through.

Cut rolls in half horizontally and remove some of the crumbs to make room for the filling. For each sandwich, spread a thin layer of mayonnaise on the insides of 1 roll. In the bottom half of the roll, layer a few slices of jalapeño, 4 meatballs, 4 sprigs of cilantro, and 2 tablespoons pickles. Cover with top half of roll.
Notes
To make sriracha mayonnaise:
Stir together 1/2 cup low-fat mayonnaise and 1 teaspoon sriracha sauce. Refrigerate, covered.
To make carrot and daikon pickles:
Place 1/2 cup julienned carrots and 1/2 cup julienned daikon in a nonreactive bowl. In a small saucepan, heat 1/4 cup rice vinegar, 2 tablespoons sugar, and 1 teaspoon kosher salt just until sugar dissolves. Cool to room temperature and pour over carrots and daikon. Let stand at room temperature for 1 hour or refrigerate, covered, overnight. Drain before using.
Nutrition
Calories:
312
kcal
Carbohydrates:
42
g
Protein:
28
g
Fat:
4
g
Saturated Fat:
0.5
g
Polyunsaturated Fat:
1
g
Monounsaturated Fat:
0.5
g
Trans Fat:
0.02
g
Cholesterol:
50
mg
Sodium:
887
mg
Potassium:
430
mg
Fiber:
3
g
Sugar:
8
g
Vitamin A:
770
IU
Vitamin C:
5
mg
Calcium:
27
mg
Iron:
12
mg
Keyword
bahn mi, ground turkey, meatballs, pickled vegetables, sandwich, vietnamese
We love a good sandwich. Try this next…
We're absolutely obsessed with this Chipotle Prune Jam BLT from Teri Turner at No Crumbs Left. Teri has created tons of recipes using California Prunes but this one might be our favorite. Then again, we say that every time she comes out with a new recipe!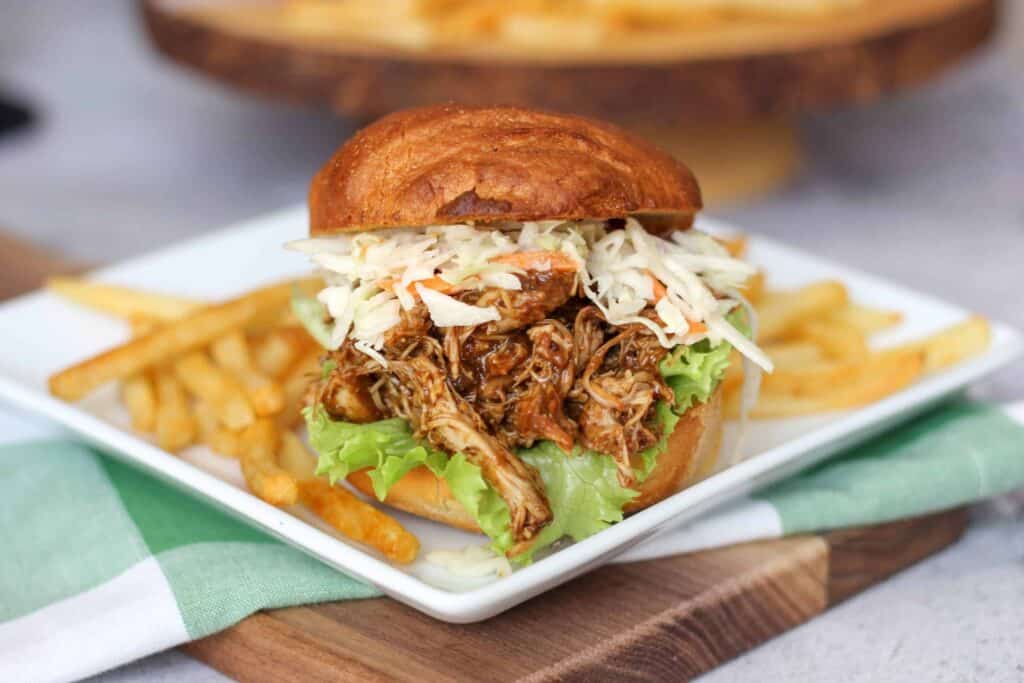 Our Pulled Chicken Sandwiches just taste like they've simmered for hours (thanks to the Instant Pot). Make the California Prune BBQ Sauce ahead of time (it keeps for up to a month in the fridge) and you'll have dinner on the table in less than 30 minutes!
What's the secret ingredient in Teri's Caramelized Onions? California Prunes! She calls her Sweet and Savory Caramelized Onions a "magic elixir" and we agree. Grilled cheese sandwiches have never tasted better.
Did you try this recipe? Maybe you've got a favorite recipe using California Prunes that you'd like to share with us? Snap a pic and share it on social using #caprunes.
Like what you see? Be sure to follow California Prunes on Facebook, Instagram, Pinterest and Twitter for more delicious recipes!