How to make Traditional Sugar Plums
What are sugar plums? Are you wondering if sugar plums are even real? They are…and they're delicious. Our friend KC of G-Free Foodie shared her recipe for Traditional Sugar Plum Candy. For the record – all authentic sugar plum recipes contain prunes, or dried plums. Hence the name.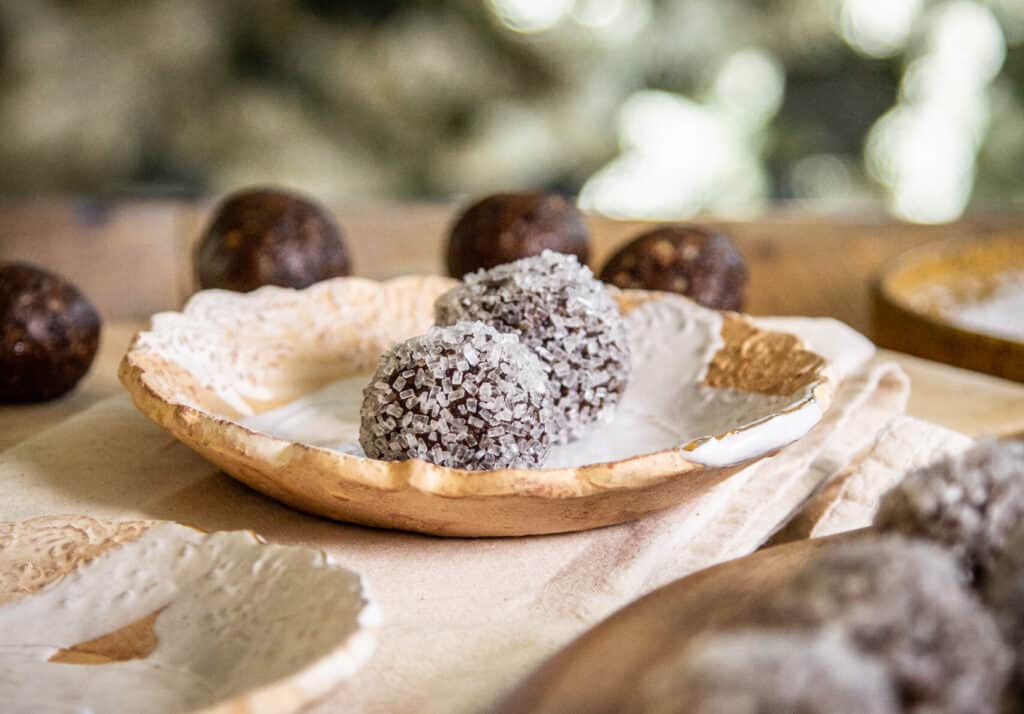 What are sugar plums?
If you've ever read "The Night Before Christmas", or watched the Nutcracker, you've probably heard of sugar plums. Maybe the iconic line "visions of sugar plums danced through their heads" comes to mind? Maybe you were enchanted watching the Sugar Plum Fairy? But do you actually know what sugar plums are?
The original meaning of the word "sugar plum" was simply derived from the shape of a candy coated ball of nuts of seeds. Hundreds of years ago, this work was done by hand, and the candies were shaped more like a plum than a sphere. For this reason, these candy coated treats were christened "sugar plums".
As time progressed, sugar plums evolved into a beloved candy containing dried fruits, toasted nuts, warm spices and a crunchy sugar coating. And in case you're wondering, this version DID include dried plums (aka prunes – and yes, prunes are dried plums).
How to make Traditional Sugar Plum Candy
Making this old-fashioned treat is surprisingly simple. Simply toast the nuts, then add the ingredients to your food processor. If you've ever made energy balls, the mixture should be a similar consistency. Then, simply roll the mixture into balls, and then roll the ball in crunchy sugar until it's well-coated. It's that simple!
Are sugar plums healthy?
Our recipe is made with real food ingredients, like nuts, honey, spices and dried fruit. Sure, they're rolled in crunchy sugar, but we still consider these a healthier treat!
Sugar Plums: A Delicious DIY Holiday Gift
These tasty treats are the perfect DIY holiday gift! Take them to your next party as a hostess gift, or make a big batch to share with friends. Sugar plums are also a delicious addition to a holiday dessert board!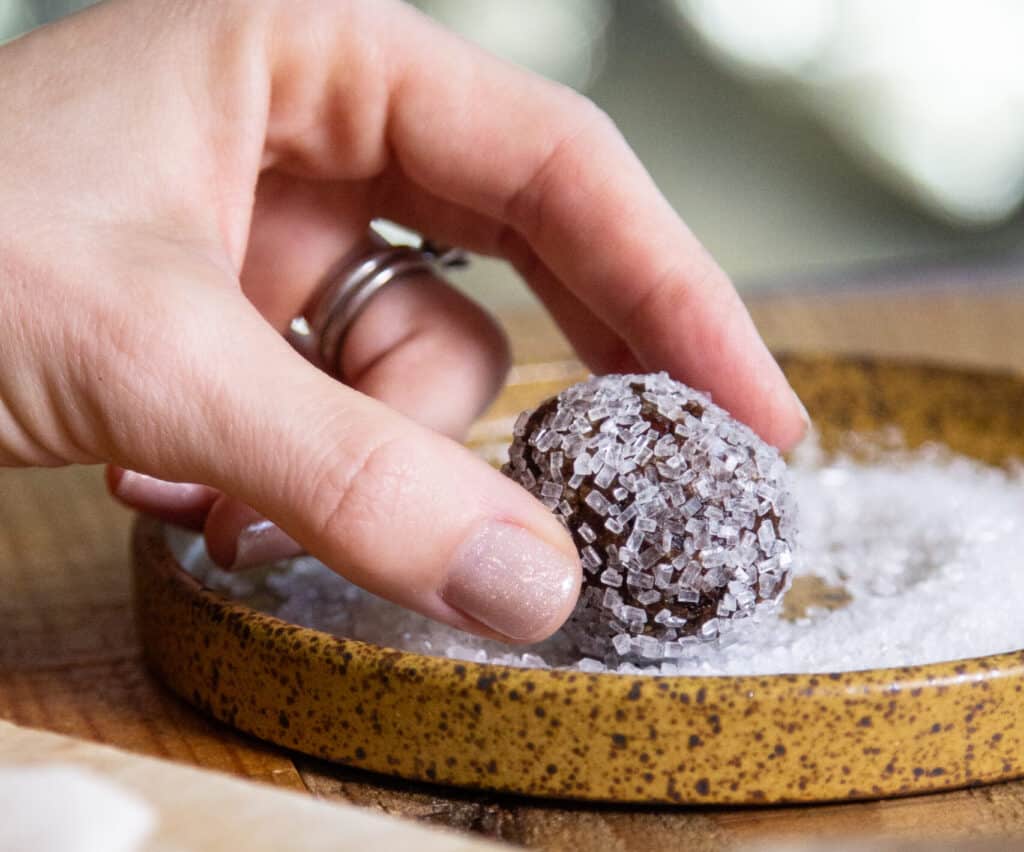 Traditional Sugar Plum Candy
KC Cornwell, G-Free Foodie
Are you wondering if sugar plums are real? Our friend KC of  G-Free Foodie shared her recipe for Traditional Sugar Plum Candy.  For the record – all authentic sugar plum recipes contain prunes, or dried plums. Hence the name.
Prep Time
10

minutes
mins
Cook Time
10

minutes
mins
Total Time
20

minutes
mins
Ingredients
1/2

cup

California Prunes about 3.25 oz

1/2

cup

walnuts toasted & coarsely chopped

about 2 oz

1/4

cup

dates pitted & chopped

just over 1 oz, about 5 or dried figs

1/4

cup

dried cranberries about 1.25 oz

1/4

cup

hazelnut meal or almond meal* toasted

or hazelnut or almond flour (see note to use whole nuts)

2

Tablespoons

apricot preserves or honey

1/4

teaspoon

cinnamon

1/8

teaspoon

ground cardamom

1/8

teaspoon

ground cloves

1

pinch

fine sea salt

1/2

cup

sugar
Instructions
To toast the walnuts and hazelnut or almond meal:
Preheat the oven to 350 F (180C).

Spread the nuts out in a single layer on one side of a sheet pan, pour the nut meal in a pile on the other side, and flatten with your hand or a spatula so it's an even layer, about 1/4 inch thick. Place the sheet pan in the oven for 8 minutes, then remove and allow to cool.
To make the Sugarplums:
Put the chopped prunes, walnuts, dates, and cranberries in the bowl of a food processor and pulse until the ingredients are chopped into small, even pieces. Stop before the mixture becomes a ball.

Add the toasted nut meal, apricot preserves, cinnamon, cardamom, cloves, and salt. Pulse several times (you may need to stop to scrape down the sides) until the ingredients are fully combined and the mixture will hold itself together when rolled into a ball. (You should still see some texture from the fruit & nuts.)

Line a tray or container with wax or parchment paper. Scoop the mixture into heaping 1 TBSP portions and roll into 1 inch balls, and place on the paper.

Roll the sugarplums in the sugar just before serving.
Notes
You can store the sugarplums before they are rolled in sugar. Store at room temperature in a covered container (but not airtight/sealed) for up to 1 week. Or, refrigerate in an airtight container for up to 1 month. Allow the sugarplums to come to room temperature before coating them in sugar.'
Love this traditional sugar plum recipe? Try out this Warm Sugar Plum Cocktail!
Nutrition
Calories:
104
kcal
Carbohydrates:
18
g
Protein:
1
g
Fat:
4
g
Saturated Fat:
0.3
g
Polyunsaturated Fat:
2
g
Monounsaturated Fat:
0.4
g
Sodium:
4
mg
Potassium:
85
mg
Fiber:
1
g
Sugar:
14
g
Vitamin A:
56
IU
Vitamin C:
0.4
mg
Calcium:
12
mg
Iron:
0.3
mg
Keyword
candy, energy balls, Holiday, sugar plums
Obsessed with this old-fashioned treat? You should probably try these delicious recipes.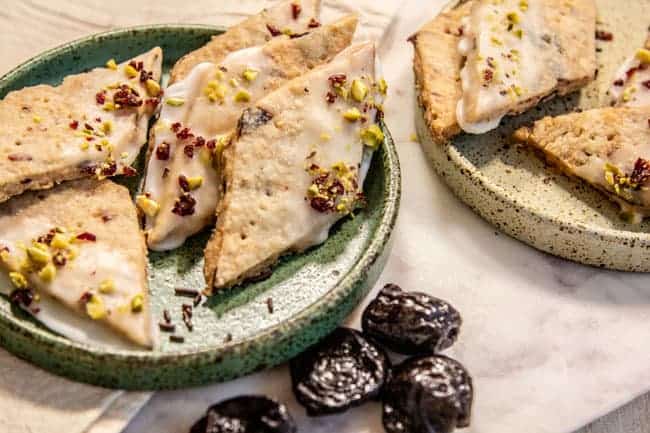 Looking for more holiday treats?
Usher in the holidays with this delightful combination of cinnamon, ginger, and honey wafting from your oven. This Christmas granola is perfect for gifting.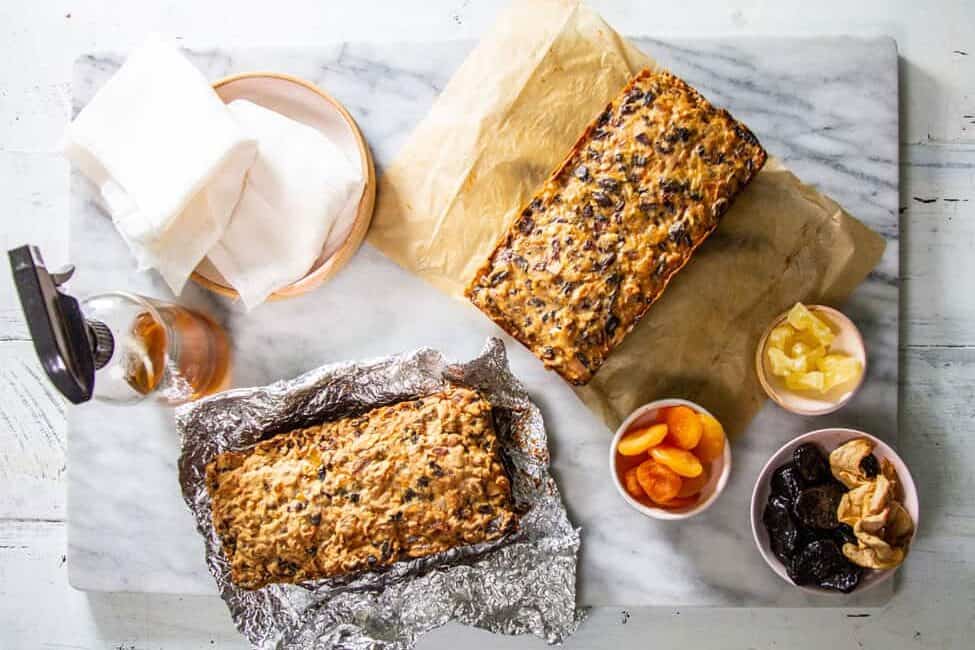 What's the absolute best fruitcake recipe? Our friend Meg from This Mess is Ours put in some extensive research – and this recipe for fruitcake came out on top.
Did you try this recipe? Maybe you've got a favorite recipe using California Prunes that you'd like to share with us? Snap a pic and share it on social using #caprunes.
Like what you see? Be sure to follow California Prunes on Facebook, Instagram, Pinterest and Twitter for more delicious recipes!