Get in the Zone to Protect Bones at Every Life Stage
Wondering how your diet can help to protect bones throughout life? Leslie Bonci, RDN has tips and recipes to help!
By: Leslie Bonci, MPH, RDN, CSSD, LDN
Leslie Bonci, MPH, RDN, CSSD, LDN, offers this advice for how prunes can fit into the 2020-2025 Dietary Guidelines based on the four major principles to help Americans achieve a healthy dietary pattern.
Here's how to protect bones throughout life:
1. Follow a healthy dietary-pattern at every life stage
California Prunes are rich in gut-protecting, heart-helping, bone-building materials to provide support at every stage of your life. Not only do prunes provide bone-building boron and manganese, but they're also rich in Vitamin K – another nutrient fundamental for bone mineralization.
With bone development peaking around age 30, it is important to enrich your supporting structure throughout your youth, teens, adulthood, and beyond.
Incorporate California Prunes into your diet at every age:
2. Customize and enjoy nutrient-dense food and beverage choices to reflect personal preferences, cultural traditions, and budgetary considerations.
California Prunes provide the sweet, chewy, and pleasant mouthfeel that helps increase the enjoyment of food, and the fiber in them can increase the feeling of fullness. Prunes also help with satiety, so you feel fuller for longer between eating occasions, protecting your health and budget.
Enjoy the wonders of California Prunes:
Try California Prunes straight out of the bag for a delicious treat
Toss em' in! Chop and add California Prunes to salads, trail mix, or a smoothie for a touch of sweetness and chewiness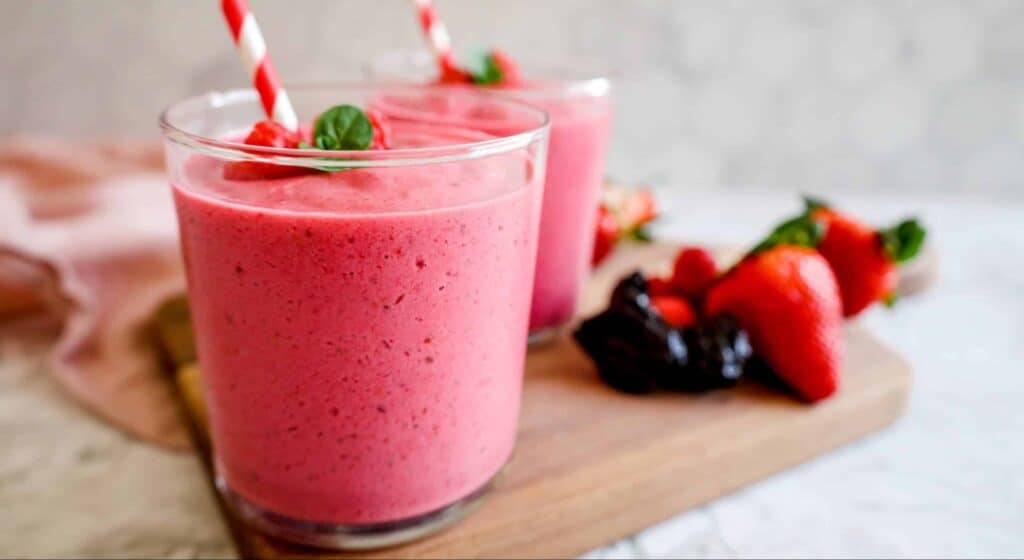 This fun, bright Pink Super Smoothie by Alison Needham is loaded with sweet-tart raspberries and strawberries. California Prunes add a touch of sweetness, plus vitamin K, potassium, fiber, and antioxidants! It's a nutritious smoothie the whole family will love.
"Fast Food"…but make it healthy, with this Heart Healthy Trail Mix recipe. Keep this grab-and-go treat on hand for an easy snack. Since dark chocolate, walnuts and prunes are all heart-healthy ingredients, you don't need to feel guilty about craving a second serving of this healthy trail mix!
This Creamy Chocolate Smoothie from Tawnie Graham, RDN of Kroll's Korner tastes like an indulgent milkshake but it's actually a made with healthy ingredients like oats, bananas, cocoa powder and (of course) California Prunes!
3. Focus on meeting food group needs with nutrient-dense foods and beverages and stay within calorie limits.
For under 100 calories, a serving of this pantry staple powerhouse has:
3 g fiber (11% Daily Value)
280 mg potassium (6% Daily Value)
23 mcg of vitamin K (20% of the Daily Value)
No added sugar, cholesterol, sodium, or fat
Vitamins and minerals, potassium, copper, and boron, which may have bone protective qualities
"Always available, affordable, with great taste, haste, and zero waste – have California Prunes on your shelf to take care of your health!" – Leslie Bonci
4. Limit foods and beverages higher in added sugars, saturated fat, sodium, and limit alcoholic beverages.
For those with health and weight goals, California Prunes are the perfect swap to reduce added sugars and saturated fat in your meals and snacks.
Reduce, Replace, Reward!
Swap California prune puree in for added sugars – protect bones, support gut health, and add flavor!
One more recipe to protect bones + feel great: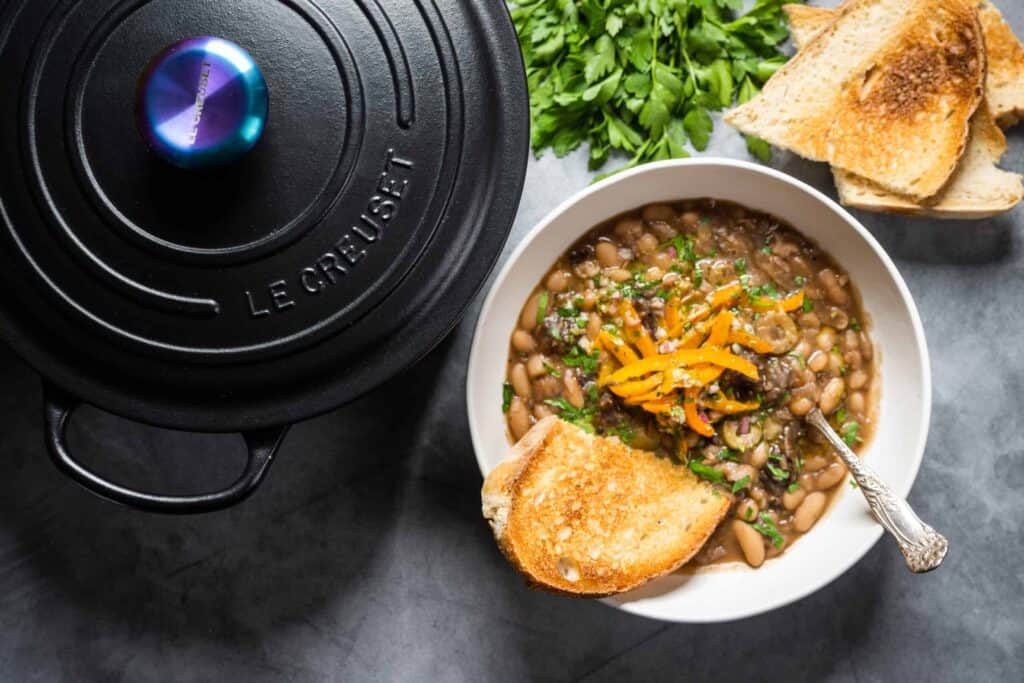 Beans Marbella is vegetarian take on the classic Chicken Marbella, combing sweet California prunes, briny ripe green olives, red wine, marinated bell pepper and creamy white beans–all produced in the Golden State.