Coconut Pots de Crème by Jaíne Mackievicz
This recipe for Coconut Pots de Crème with Rum-Stewed Prunes from Jaíne Mackievicz is based on her mom's "easier" version of traditional Brazilian Manjar de Coco. The simple custards get a lovely topping of prunes full of rum and spice. Sounds pretty fabulous to us. Of course, a favorite dessert recipe from the winner of the Julia Child Challenge would sound pretty good to us. But we think you'll like it too.
from Jaíne:
Growing up, this was my mom's go-to recipe for any impromptu dessert, whether it was unannounced friends (which is so common in my culture), a busy weekend, or a quick fix for a sweet tooth. Not that I believe a in a cure for a sweet tooth.
she also transformed these into cake fillings, sometimes mixing chopped prunes into the crème itself and other times just intercalating crème and prunes between the layers. The leftover rum-flavored syrup was used to soak the sponge, which made it taste like a cake fit for adults. 10-year-old Jaíne loved getting to eat a small slice of it.
Read the whole story behind these Coconut Pots de Crème here.
Manjar de Coco, is a Brazilian coconut pudding recipe commonly eaten at festivals or family gatherings. Chef Rosana McPhee shares her family recipe on the Great British Chef website, so you can give that a try too. The texture is firmer than these pots de crème, made with the same ingredients in different amounts.
Here's what you need for the Rum-Stewed Prunes:
California prunes or a mix of prunes + golden raisins
dark rum
water
granulated sugar or honey
cinnamon stick
vanilla extract
Making stewed prunes is easy: you simply pop the dried fruit, liquid and spices in a pot, and cook at a low boil or high simmer for about 10 minutes. That's all it takes!
Yes, you can make it in advance:
These Coconut Pots de Crème are wonderfully easy to make ahead, but would be cold for serving in that case. If you'd like to try it this way, make sure to cover it with plastic film in contact to avoid the thin little skin naturally created on the surface of custards. The prunes can be stewed ahead too. Simply warm them just before serving.
Coconut Pots de Crème with Rum-Stewed Prunes
Jaíne Mackievicz
This recipe for Coconut Pots de Crème with Rum-Stewed Prunes from Jaíne Mackievicz is based on her mom's "easier" version of traditional Brazilian Manjar de Coco.
Prep Time
10

minutes
mins
Cook Time
25

minutes
mins
Ingredients
13.5

oz

can full-fat pure coconut milk

14

oz

can sweetened condensed milk

(I like La Lechera)

3

TBSP

cornstarch

1

vanilla bean pod

optional
Ingredients for the fruit:
1 1/2

cups

California prunes

packed

1

cup

dark rum

or water

1/2

cup

water

3

TBSP

granulated sugar or honey

1

stick

cinnamon

1

TBSP

vanilla extract

optional
Instructions
In a heavy small saucepan, combine the sweetened condensed milk, half of the coconut milk, and the vanilla bean pod, if using. In the other half of the coconut milk still in the can, whisk in the cornstarch to dilute, then pour it into the saucepan with the other ingredients.

Over medium heat, bring the mixture to a boil, whisking constantly. Reduce the heat to medium-low and whisk for about 5 minutes, until the mixture thickens completely. Be attentive as it thickens and burns quickly, so keep the heat adequately tamed.

With a ladle, pour the custard into small cups or a big bowl to serve family-style (do it however you'd like). Let it set at room temperature while you make the sauce.

In another heavy small saucepan, combine the dried fruit, rum (or water), water, sugar or honey, and cinnamon stick. Bring the mixture to a boil over medium heat, stirring occasionally and watching it carefully as the alcohol burns.

Cook for about 10 minutes, until the fruit has softened and the liquid starts to look syrupy.

Remove from heat and immediately add the vanilla extract.

Spoon the warm fruit sauce over the little pots de crème and serve right away.
Notes
This recipe serves 4-6, depending on the serving cups used
Nutrition
Calories:
581
kcal
Carbohydrates:
76
g
Protein:
8
g
Fat:
20
g
Saturated Fat:
16
g
Polyunsaturated Fat:
0.4
g
Monounsaturated Fat:
2
g
Cholesterol:
22
mg
Sodium:
95
mg
Potassium:
711
mg
Fiber:
3
g
Sugar:
59
g
Vitamin A:
518
IU
Vitamin C:
3
mg
Calcium:
225
mg
Iron:
3
mg
Jaíne Mackievicz moved to the United States from the Brazilian Amazon in 2017 with one goal in mind. She wanted to learn to cook like her childhood hero, Julia Child.
She had originally hoped to attend the Gastronomy program at Boston University. When that didn't work out, something different (or as she'll tell you, something magical) fell into place. Jaíne had written a wildly successful article for the Julia Child edition of Cherry Bombe magazine. Her work made an impression on folks in the culinary world. When Food Network was casting the 2022 Julia Child Challenge, Jaíne was invited to audition – and won. She's in the process of writing her first cookbook and maintains a weekly newsletter, Dinner at Jaíne's.
Love this Coconut Pots de Crème with Rum-Stewed Prunes? Try these too: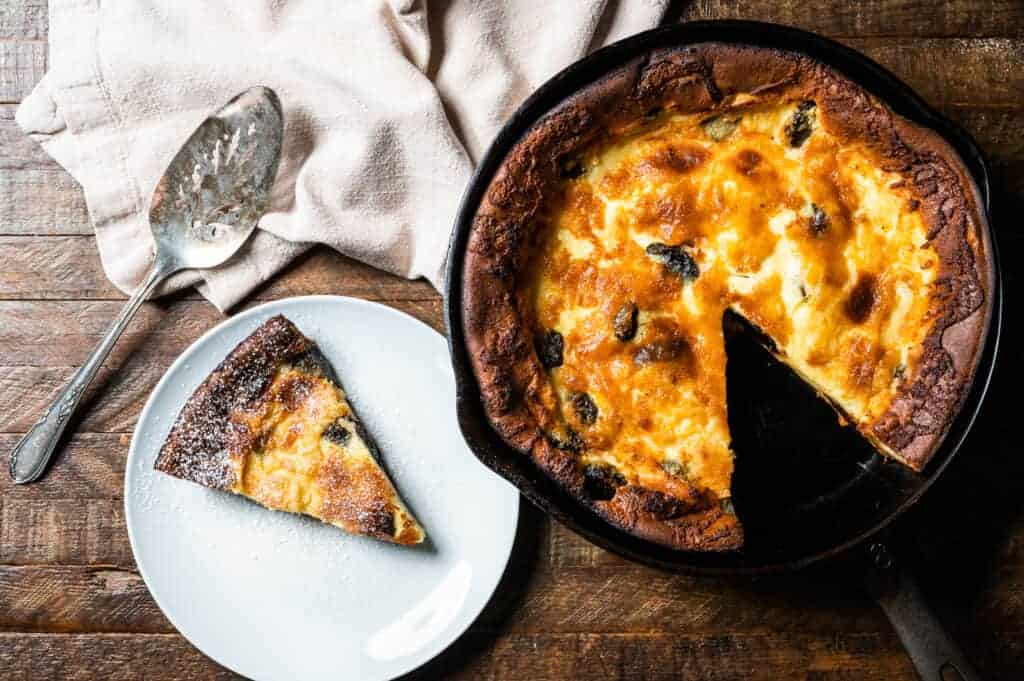 Similar to a clafoutis, a Far Breton is an iconic prune dessert in the Brittany region of France, and Guy's version is buttery, rich, and filled with brandy-spiked prunes.
These Italian style Stewed Prunes take a quick simmer in red wine and spices on their way to delicious. Alyssa Ponticello was inspired to make them by an incredible restaurant dessert in NYC. Sounds familiar? The same dessert was the genesis of this cake recipe too.
She serves them with with a dollop of mascarpone as a dessert, sometimes going the extra mile with whipped mascarpone and orange zest and a slice of candied citrus.
Want more of Jaíne's recipes? Try her delicious Traditional Ukrainian Borscht recipe next, and her Arroz de Festa too.