Traditional Scottish Cock-a-leekie Soup
Inspired by Scottish tradition, this take on a cock-a-leekie soup combines the comforts of brothy chicken soup with hearty barley, salty bacon, and sweet California prunes.
What is Cock-a-leekie?
Cock-a-leekie a traditional Scottish chicken and leek soup. Cock-a-leekie is regularly served on National Holidays and considered the National Soup of Scotland.
Where did cock-a-leekie originate?
The first mention of cock-a-leekie dates back to 1598, when it was served to King James VI of Scotland. However, most food historians agree that it likely originated from French chicken and onion soup recipes. France and Scotland were politically allied at the time, so it stands to reason that Scottish dish was inspired by a French recipe. In fact King James' mother, Mary Queen of Scots, spent much of her childhood and early adult years in French court.
How is cock-a-leekie different than chicken soup?
So, how is cock-a-leekie different from the typical recipe for chicken soup? In Scotland, leeks were more readily available than onions. They were an appropriate substitution – the two have a similar flavor, but leeks give the soup a meatier texture. The most notable deviance that truly makes this recipe unique was the addition of prunes. They add a subtle sweet flavor and added nutrients to the dish. Scotland's colder climate would have meant a shorter growing season. Dried fruits, like prunes, were an excellent way enjoy healthy fruits year round.
Why is called cock-a-leekie?
A cock is a male chicken, so it's easy to imagine how the "cock" and leek soup came to be known as cock-a-leekie. Before settling on the current spelling as canon, the soup was also referred to as cocky-leeky or cockoleekie – with about as many spelling variations as you can imagine.
Was cock-a-leekie served on the Titanic?
First-class passengers on the Titanic were served cock-a-leekie on April 14, 1912 (aka, the day before the ship sunk). The meals served to the first class were decadent and chic. Serving cock-a-leekie on the Titanic would be the modern day equivalent of serving cock-a-leekie in a Michelin-star rated restaurant.
It's interesting to note that despite the fact that cock-a-leekie is a relatively simple and inexpensive dish, it was only served to first class passengers. We can only assume that this hinted at a prestige associated with the dish. Fun fact: the third class menu actually listed "gruel" on it – so there's definitely a culinary hierarchy, and cock-a-leekie clearly was at the top of the heap.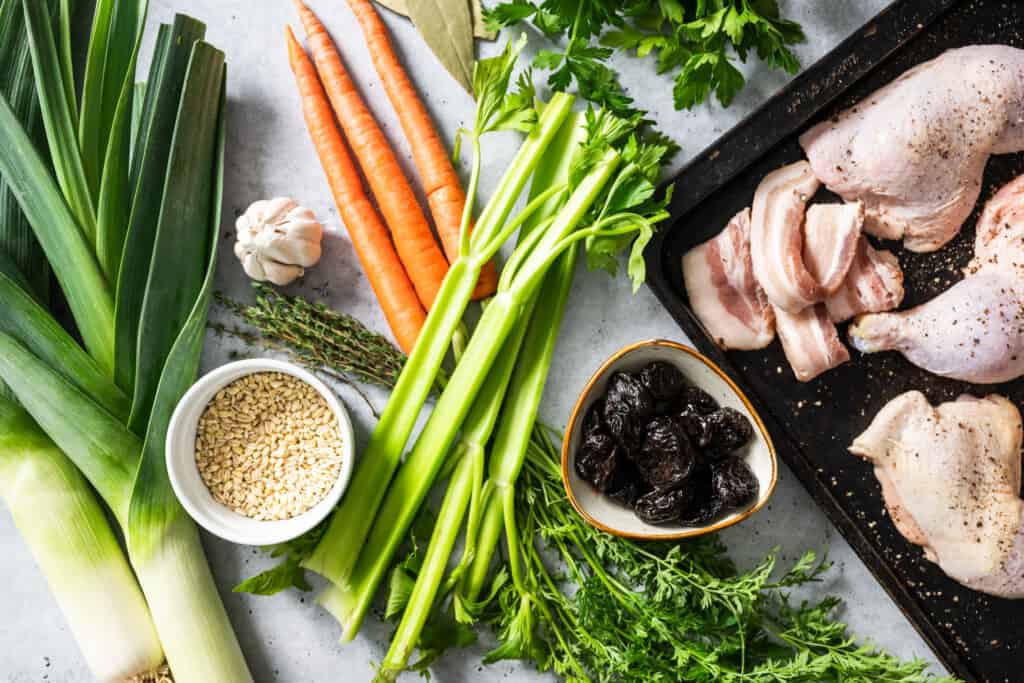 How is our recipe different than the traditional recipe?
Our recipe, inspired by the New York Times version of the traditional soup, is a bit of a departure from the earliest recipes. When 16th century chefs prepared this dish, they removed the chicken before serving the soup (it was then used for other purposes). We obviously kept the chicken, but we also added bacon (to give the broth body), additional veggies and aromatics.
Traditional Scottish Cock-a-Leekie
Inspired by Scottish tradition, this take on a cock-a-leekie soup combines the comforts of brothy chicken soup with hearty barley, salty bacon, and sweet California prunes. 
Prep Time
10

minutes
mins
Total Time
2

hours
hrs
10

minutes
mins
Course
Appetizer, Dinner, Soup
Ingredients
3

pounds

bone-in

skin-on chicken legs (thighs and drumsticks)

3

teaspoons

kosher salt

divided, plus more to taste

1

teaspoons

black pepper

divided, plus more to taste

4

ounces

thick-cut bacon

roughly chopped

1

head of garlic

halved

1

tablespoons

extra virgin olive oil

2

large leeks

cleaned, greens roughly chopped and whites sliced into ½-inch coins

3

medium carrots

peeled and cut into ¼-inch coins–reserve the peels

2

stalks celery

sliced thin–reserve any leaves or trimmings

1

bunch parsley

stems and leaves separated

½

cup

dry white wine

4

sprigs fresh thyme

2

bay leaves

1

teaspoon

whole peppercorns

1

tablespoon

unsalted butter

½

cup

barley

15-20

pitted California prunes
Instructions
Pat the chicken dry with a paper towel and season with 1 tsp salt of salt and ½ tsp of black pepper. Let the chicken sit while you warm a large Dutch oven over medium heat. Add the bacon and cook until crispy, then strain out, leaving the rendered fat in the pot. Set aside on a paper towel-lined plate. Sear the chicken in the bacon grease until deeply browned on all sides, then remove and set aside.

Add the garlic to the pot, cut-sides down, and cook 1-2 minutes, until browned but not burning. Increase the heat to medium-high, stir in the olive oil, then add the leek greens, carrot peels, celery leaves and trimmings, and parsley stems. Sweat the vegetables until vibrant in color, about 5 minutes, then pour in the wine to deglaze and scrape the bottom of the pot. Simmer another 5 minutes, until the wine has reduced and the alcohol has cooked out.

Nestle in the browned chicken and pour in 7-8 cups of cold water, just enough to submerge it. Add the thyme sprigs, bay leaves, peppercorns, and 1 tsp salt, then bring the liquid to a boil. Reduce the heat and simmer, partially covered, for 45 minutes, or until the chicken is tender. Remove the chicken pieces, strain and reserve the broth, and discard the cooked vegetables and herbs.

Wipe the Dutch oven clean, then return to medium-high heat. Melt the butter, then saute the leek coins in a single layer until golden brown, about 5 minutes. Gently flip and cook another 5 minutes, then transfer the leek whites to a plate or small sheet pan.

Pour the strained broth back into the pot and bring to a brisk simmer. Stir in the sliced carrots and celery along with the barley and let the liquid simmer until reduced by a third, 40-45 minutes. The vegetables and barley should be tender. While the broth reduces, shred the chicken and discard the skin and bones.

Once the broth has reduced, season with the remaining 1 tsp salt and ½ tsp black pepper, then stir in the shredded chicken, sauteed leek coins, and the prunes. Simmer together for 5 minutes, then sample and season to taste with additional salt or pepper. Garnish with the parsley leaves and reserved bacon to serve!
Video
Notes
Sub barley for brown rice for a gluten-free version. 
Nutrition
Calories:
571
kcal
Carbohydrates:
36
g
Protein:
41
g
Fat:
28
g
Saturated Fat:
9
g
Polyunsaturated Fat:
4
g
Monounsaturated Fat:
12
g
Trans Fat:
0.3
g
Cholesterol:
135
mg
Sodium:
1414
mg
Potassium:
1064
mg
Fiber:
6
g
Sugar:
12
g
Vitamin A:
5924
IU
Vitamin C:
7
mg
Calcium:
89
mg
Iron:
3
mg
Keyword
chicken soup, Scottish
Winner Winner Chicken Dinner
If you loved our recipe for Cock-a-Leekie, try these delicious chicken recipes!
This take on the traditional Coq au Vin recipe amps up the flavor and slashes the time to under an hour. You'll love this recipe from our friend Peter Sidwell.
Easy enough for a weeknight, but elegant enough to serve to guests, these Sweet and Spicy Chicken Legs are always a hit. Even better – they can be on the table in about a half hour!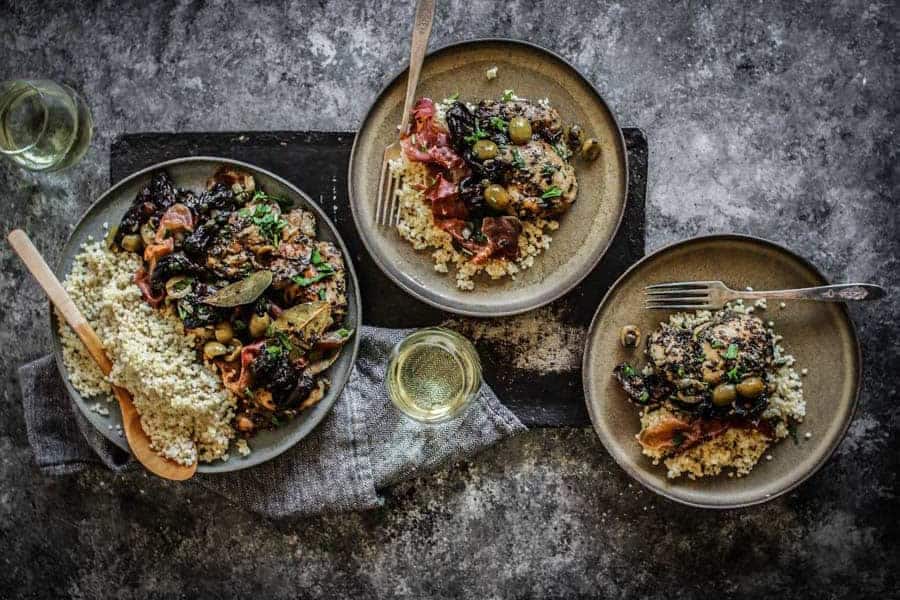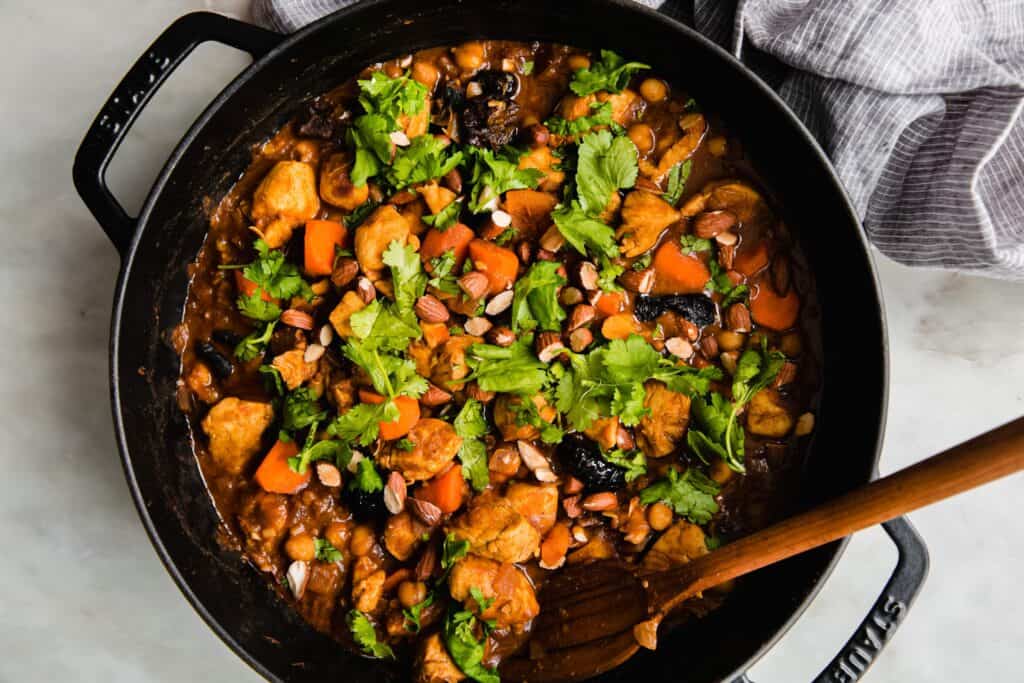 Did you try this recipe? Maybe you've got a favorite recipe using California Prunes that you'd like to share with us? Snap a pic and share it on social using #caprunes.
Like what you see? Be sure to follow California Prunes on Facebook, Instagram, Pinterest and Twitter for more delicious recipes!