Octopus Tostada with Salsa Macha
Chef Mikel Anthony shared his recipe Octopus Tostadas with California Prune Salsa Macha. Are you brave enough to try making it at home?
Cooking an octopus?? You've got this…
Have you ever tasted an Octopus Tostada? One bite and you'll fall in love with the fabulous flavors. The only problem – the idea of cooking a whole octopus can be a little intimidating. Chef Mikel Anthony shares his simple method, so you can try making this at unique dish at home.
What is Salsa Macha
Salsa Macha is more like a chile oil than the typical salsas that you'll find at most Mexican food restaurants. It's made using dried chiles, nuts and oils. Chef Mikel Anthony added prunes to his salsa, which helps to temper the heat of the chiles and also adds gorgeous depth of flavor to this salsa.
Octopus Tostada
Chef Mikel Anthony
This fun and creative but unexpected pairing is sure to wow your taste buds! This Octopus Tostada with California Prune Salsa Macha was created by Chef
.
Prep Time
20

minutes
mins
Cook Time
1

hour
hr
20

minutes
mins
Total Time
1

day
d
11

hours
hrs
40

minutes
mins
Course
Appetizer, Dinner, Entree, Lunch
Ingredients
For the Salsa Macha with California Prunes
2

ounces

dried chiles (one or more of the following: arbol

chiltepin,pequin, serrano seco, chipotle, morita, puya, guajillo, ancho, mulato, pasilla –

1 1/2

ounces

1/3 cup nuts (one or more of the following: almonds, peanuts, pecan pieces)

1

tablespoon

sesame seeds

4

garlic cloves

peeled and halved

2

cups

olive oil

1

tablespoon

vinegar

cider vinegar works well here

1

teaspoon

Salt

1/2

teaspoon

dried herbs

one or more of the following: Mexican oregano, marjoram, or thyme

¼

cup

California Prunes
For the Octopus
2-3

pound

Octopus

1-2

Oranges

sliced lengthwise

1-2

Lemons

sliced lengthwise

1

Onion

sliced lengthwise

2

Bay Leaves

Salt & Pepper to taste
For the Tostada
8

Tostadas (fried corn tortillas)

Avocado crema

for topping
Instructions
For the salsa
Stem the chiles, then break or cut them open and scrape/brush/let fall out most of the seeds; cut into 1/4-inch pieces – you will have about 1 cup. (Simply use chiltepin or pequin whole.)

In a large (4-quart) saucepan, combine the nuts, sesame seeds, garlic, and oil. Set over medium-high heat and cook until garlic and sesame seeds are golden about 5 minutes. Remove from the heat and stir in the chiles. Let cool for 5 minutes.

In a small bowl, mix the vinegar with the salt until the salt dissolves, then add it to the pan along with the herbs. When the mixture has cooled to room temperature, pour it into a blender or food processor and pulse until everything is chopped into small pieces. Run the processor for a few seconds until everything is finely chopped—but not pureed. Add in 1/4 c of chopped prunes. Mix. Pour into a jar and store in the refrigerator until you're ready to use.
For the octopus
Place orange, lemon, onion, bay leaves, salt, and pepper into a pot filled with water. Bring to boil.

Cut off the head of the octopus and remove the beak (or ask your fishmonger to remove the beak before wrapping up your fish)!

Place octopus head in the pot, boil until tender (approximately 40 minutes). Check with a knife to be sure the octopus is tender, use a strainer or slotted spoon to remove the head. Reserve cooking liquid.

Bring cooking liquid to a rolling boil. Dip tentacles into the water for about 2-3 seconds and lift out. Do this 2-3 times to help shock tentacles for color and curl. Cover your pot and boil until the tentacles are tender, about 45-60 minutes. Cut through one of the largest tentacles to ensure that it's fully cooked.
To Assemble
Slice Octopus tentacles into bite sized chunks.

Spread a thin layer of avocado crema onto a tostada.

Add a generous amount of chopped octopus tentacles on top of the crema.

Drizzle with Prune Salsa Macha.
Video
Nutrition
Calories:
747
kcal
Carbohydrates:
28
g
Protein:
21
g
Fat:
63
g
Saturated Fat:
9
g
Polyunsaturated Fat:
9
g
Monounsaturated Fat:
43
g
Trans Fat:
0.03
g
Cholesterol:
54
mg
Sodium:
670
mg
Potassium:
724
mg
Fiber:
5
g
Sugar:
7
g
Vitamin A:
2136
IU
Vitamin C:
25
mg
Calcium:
103
mg
Iron:
8
mg
Keyword
mikel anthony, octopus, salsa macha, tostada
Intrigues by Octopus Tostadas? Want to try more of Chef Mikel Anthony's recipes?
Chef Mikel Anthony loves California Prunes and incorporates them into many of his incredible recipes!
This Fried Chicken Sandwich is an elevated take on the KFC classic. Chef Mikel Anthony skips the mayo, mustard, or ranch and instead makes chicken schmaltz using California Prunes, fish sauce, and Thai chiles.
Want to try more savory dishes starring California Prunes?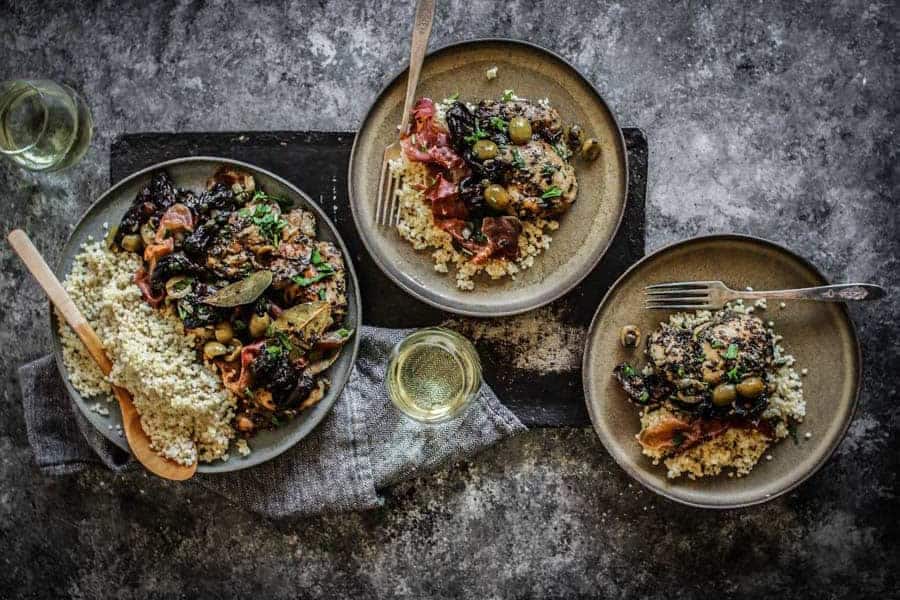 What's the secret ingredient in Teri Turner's Chicken Enchiladas? California Prunes! They temper the spices, adding depth of flavor and subtle sweetness to this phenomenal recipe.
Did you try this recipe? Maybe you've got a favorite recipe using California Prunes that you'd like to share with us? Snap a pic and share it on social using #caprunes.
Like what you see? Be sure to follow California Prunes on Facebook, Instagram, Pinterest and Twitter for more delicious recipes!