Jelly Donuts with California Prunes
Homemade donuts are always a treat, but Chef Ana de Anda's Jelly Donuts with California Prunes, vanilla glaze, and honey walnut crumble, are a dream come true.
What is a Jelly Donut?
A Jelly Donut is a fried donut that is filled with a jam, jelly or preserve. Chef Ana de Anda filled her decadent jelly donuts with a prune jam, then topped them with a vanilla glaze + a walnut crumble.
How to fill Jelly Donuts
Have you ever wondered how chefs fill jelly donuts? It's not magic – and it's easier than you think. Because the donuts are fried, they have a light and airy center. Chef Ana de Anda inserts a pastry bag with a piping tip into the side of the donut and gently fills the donut until the filling begins to seep out of the hole.
Why is this the best jelly donut recipe?
This is the best jelly donut recipe we've ever tried – no contest. Why? The flavors work so beautifully together. Some donuts can be overly sweet – courtesy of sugar-laden jams and glazes. Chef Ana's buttery vanilla glaze is rich, with just the right amount of sweetness and the walnut topping adds a delightful crunch with just a touch of bitterness to add balance to this delicious donut.
Jelly Donuts with California Prunes
Ana de Anda
Homemade donuts are always a treat, but these Jelly Donuts with California Prunes, vanilla glaze, and honey walnut crumble, are a dream come true.
Course
Breakfast, Dessert, Snack
Ingredients
For the Donut Dough
1

and 1/8 c whole milk

warm

1/4

cup

sugar

2 1/4

teaspoons

Instant / Active Dry Yeast

2

ea whole large eggs

1

and 1/4 sticks unsalted butter

melted

4

cup

AP flour

1/2

teaspoon

salt

oil for frying
For the Prune Jam
1

pound

Prunes

pitted

1/2

teaspoon

Kosher salt

2

tablespoon

Sugar

1 1/2

cup

Water
For the Vanilla Glaze
1/2

cup

butter

melted

2

teaspoons

vanilla

4

cups

powdered sugar

3

tablespoons

cream

Dash of salt
For the Honey Walnut Crumble
1/2

cup

butter

melted

2/3

cup

brown sugar

3/4

cup

AP flour

3/4

cup

ground walnuts

1/8

cup

honey

¼

tsp

salt
Instructions
To make the Donut Dough
Warm the milk to about 105F (40C) degrees. Add the milk to a mixing bowl.

Add the sugar and stir to dissolve. Add the yeast and stir to combine. Let the yeast rest for 5 minutes.

Add the beaten eggs and melted butter to the bowl and stir to combine.

While the mixer is running slowly, add the flour and salt and mix until the dough comes together.

Turn off the bowl and let the dough sit in the bowl of the mixer for 10 minutes.

After the rest period, turn the dough out into a lightly oiled bowl, cover the bowl with plastic wrap and refrigerate the dough for at least 2 hours.
To form the Donuts
Remove the dough from the fridge and roll it out on a lightly floured surface until it is 1/2 to 1/3 of an inch thick. Using a ring cutter, cut the donuts.

Place the cut donuts and holes on a lightly greased baking sheet.

Cover the donuts and let them rise until doubled in size, about one hour.
To fry the Donuts
Heat the oil until it reaches 350 to 375 degrees (180C).

Add the donuts to the hot oil and fry until golden brown, about 1 1/2 minutes per side.
To make the Prune Jam
Bring prunes and water to a simmer, then cover and cook until prunes are meltingly tender, about 15 minutes, cook until the liquid in the pan is syrupy. * (Depending on the moisture content of your prunes, you may need to add more water to keep prunes from drying out)

Transfer mixture to a food processor and add kosher salt, then pulse until it develops into a thick paste.

Add sugar in 2-tablespoon increments to desired sweetness.

Use immediately, or transfer to a clean jar, seal, and chill in the refrigerator for at least 4 hours.
To make the Vanilla Glaze
Melt butter in a medium bowl.

Add vanilla and stir to combine.

Add powdered sugar and stir to form a thick paste. Thin out the paste with milk, one tablespoon at a time.

Glaze donuts!
To make the Honey Walnut Crumble
Melt butter and set aside.

Mix dry ingredients, set aside.

In a stand mixer, add butter, honey, and dry ingredients until a crumble forms

Bake at 350ºF (180C) for 15 min until golden.
Assembly
Once the donuts are slightly cooled, pipe prune jelly inside then glace the top. Sprinkle the walnut honey crumble on top and decorate with an edible flower if desired. Enjoy your Jelly Donut!
Video
Nutrition
Calories:
358
kcal
Carbohydrates:
62
g
Protein:
4
g
Fat:
11
g
Saturated Fat:
6
g
Polyunsaturated Fat:
2
g
Monounsaturated Fat:
3
g
Trans Fat:
0.3
g
Cholesterol:
36
mg
Sodium:
192
mg
Potassium:
202
mg
Fiber:
2
g
Sugar:
37
g
Vitamin A:
433
IU
Vitamin C:
0.2
mg
Calcium:
27
mg
Iron:
2
mg
Keyword
ana de anda, donuts, jelly donuts
Obssessed with Chef Ana's Prune-Jam Filled Jelly Donuts? Here are more delicious ways to use Prune Jam!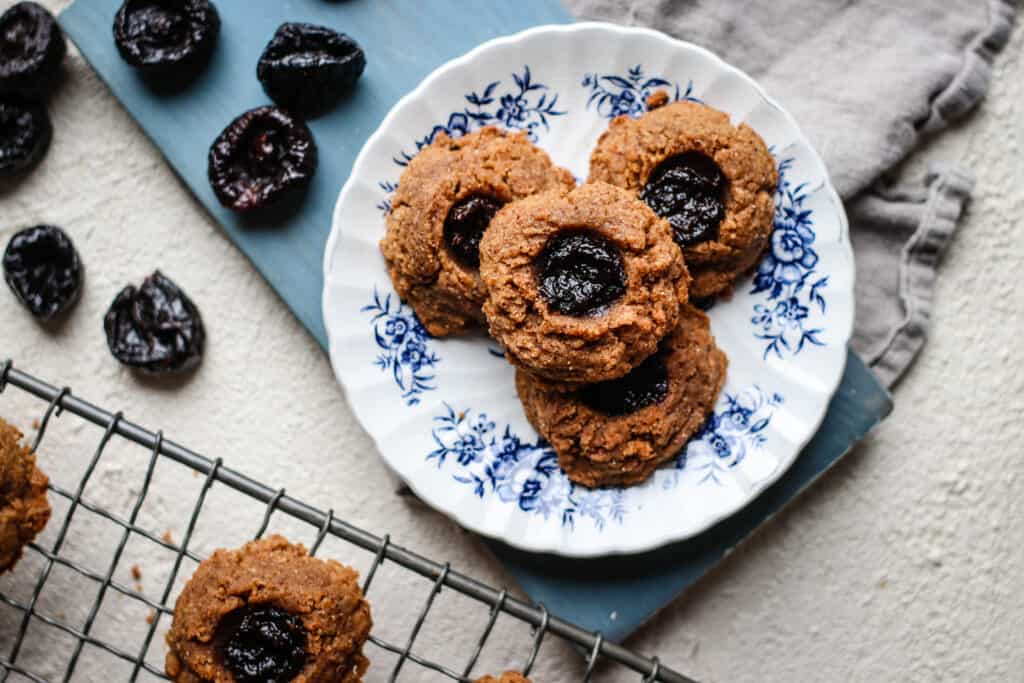 There's something for everyone on this sweet and savory graze board from our friends at Belly Full. Whatever you do, do NOT skip the prune jam. You'll be dreaming about it for days.
We're absolutely obsessed with this Chipotle Prune Jam BLT from Teri Turner at No Crumbs Left. Teri has created tons of recipes using California Prunes but this one might be our favorite. Then again, we say that every time she comes out with a new recipe!
Did you try this recipe? Maybe you've got a favorite recipe using California Prunes that you'd like to share with us? Snap a pic and share it on social using #caprunes.
Like what you see? Be sure to follow California Prunes on Facebook, Instagram, Pinterest and Twitter for more delicious recipes!