These California-Style Devils on Horseback from Georgeanne Brennan are the star of any appetizer table. Don't beleive us? Whip up a batch and watch how quickly they disappear.
What are Devils on Horseback
Devils on Horseback is admittedly an odd name for an appetizer. Recipes date back to the 19th century, and most food historians assume the name is due to the fact that they were served sizzling hot. In its simplest form, Devils on Horseback are simply bacon-wrapped prunes that have been stuffed with cheese or nuts, but many variations exist. We filled our version with creamy, tangy goat cheese that contrasts beautifully with the crispy bacon and sweet prunes.
What ingredients do you need to make this recipe?
This easy appetizer calls for three simple ingredients: California Prunes, goat cheese (or blue cheese) and bacon.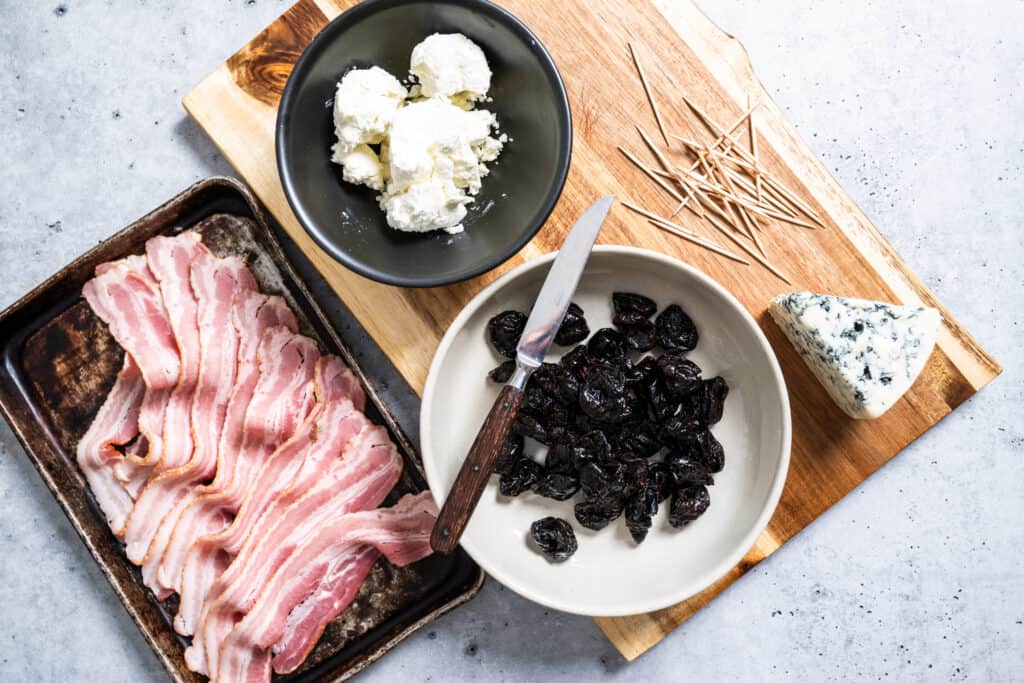 How to assemble Devils on Horseback
Make a lengthwise slit down the center of each prune. Fill the opening with cheese. Then, wrap the cheese-stuffed prune in a 2-inch long slice bacon. Secure with a toothpick and broil until sizzling hot and browned!
Why are Bacon-Wrapped Prunes so delicious?
So, why are Bacon-Wrapped Prunes so delicious? You've heard the saying opposites attract? Prunes are naturally sweet and chewy and bacon is salty and crisp. When you serve the two together, it's the perfect combination of flavors and textures.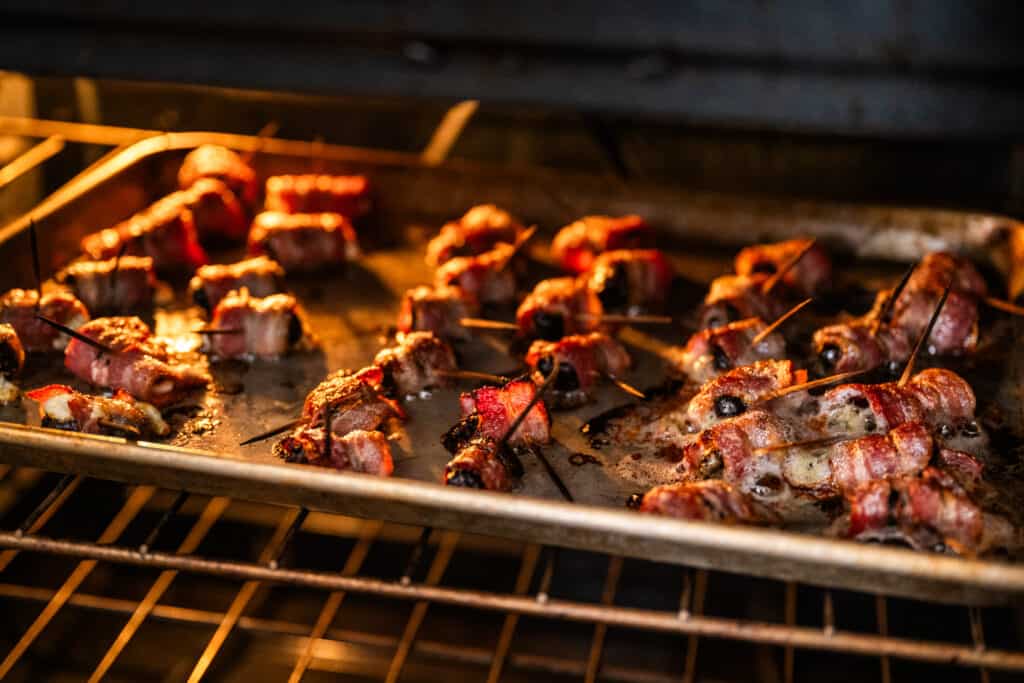 California-Style Devils on Horseback
Georgeanne Brennan
These California-Style Devils on Horseback are the star of any appetizer table. Don't beleive us? Whip up a batch and watch how quickly they disappear.
Prep Time
15

minutes
mins
Total Time
23

minutes
mins
Cuisine
Holiday, Quick & Easy, RD Creations
Ingredients
12

California Prunes

5 1/3

oz

goat cheese, blue cheese or mixture of both

divided into 12 equal portions

3-4

slices

of bacon

each cut into 2-inch pieces (12 pieces total)
Instructions
For each prune, make a lengthwise slit.

Spoon in a portion of the cheese.

Wrap with bacon and secure with a wooden pick.

Arrange in a broiler pan and broil 3-4 inches away from the heat for 6 to 8 minutes or until browned and barely crisp, turning once.

Serve hot or cold.
Notes
Tip: Broil the bacon-wrapped prunes just before serving.
Find more delicious recipes here.
Nutrition
Calories:
80
kcal
Carbohydrates:
6
g
Protein:
3
g
Fat:
5
g
Saturated Fat:
3
g
Polyunsaturated Fat:
0.4
g
Monounsaturated Fat:
2
g
Trans Fat:
0.01
g
Cholesterol:
9
mg
Sodium:
83
mg
Potassium:
87
mg
Fiber:
1
g
Sugar:
4
g
Vitamin A:
210
IU
Vitamin C:
0.1
mg
Calcium:
22
mg
Iron:
0.4
mg
Obsessed with Devils on Horseback? Try these fun variations!
Martha keeps things simple, omitting a filling and simply wrapping her prunes in bacon. It's a very good thing.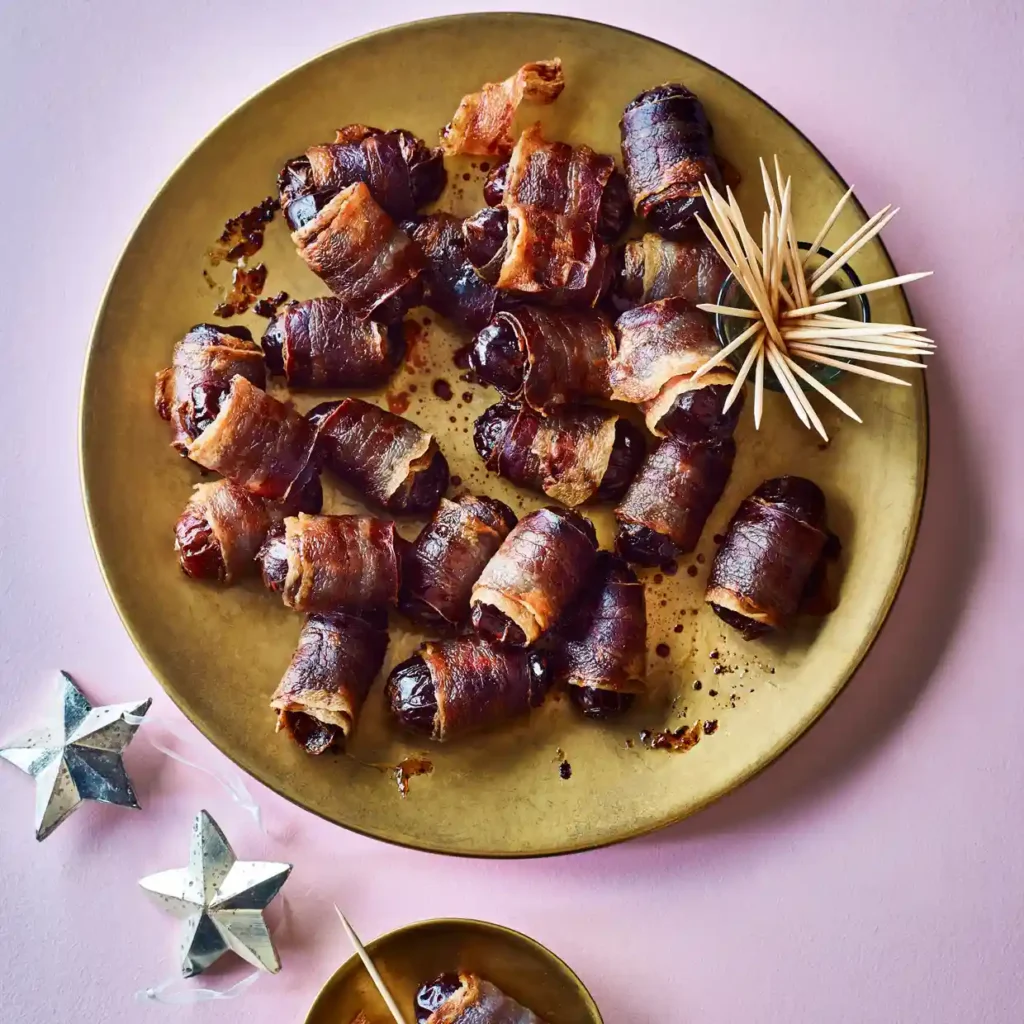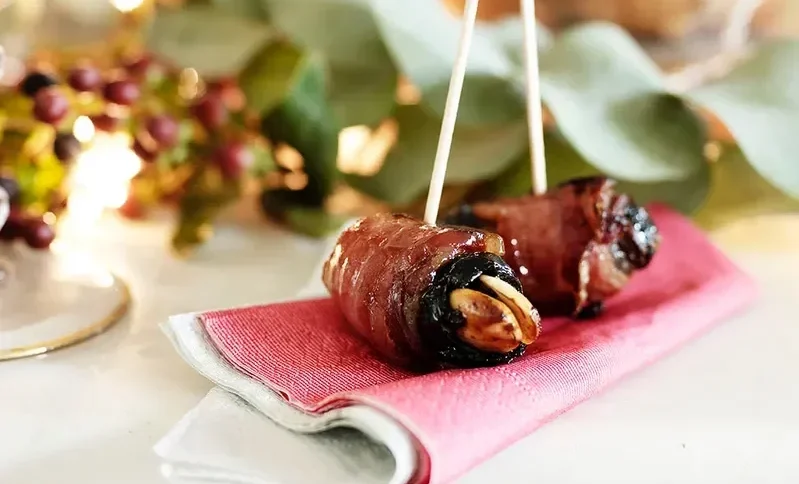 Jamie adds almonds to the center of his bacon-wrapped prunes in this delightful take on the classic recipe.
Our Bacon-Wrapped Prunes have a cream cheese, celery and artichoke stuffing that's a creamy contrast to the crisp grilled bacon that wraps the prunes.
Like what you see? Be sure to follow California Prunes on Facebook, Instagram, Pinterest and Twitter for more delicious recipes!