Inspired by a Beans Marbella recipe in The New York Times, this vegetarian take on the classic Chicken Marbella combines sweet California prunes, briny ripe green olives, red wine, marinated bell pepper and creamy white beans–all produced in the Golden State.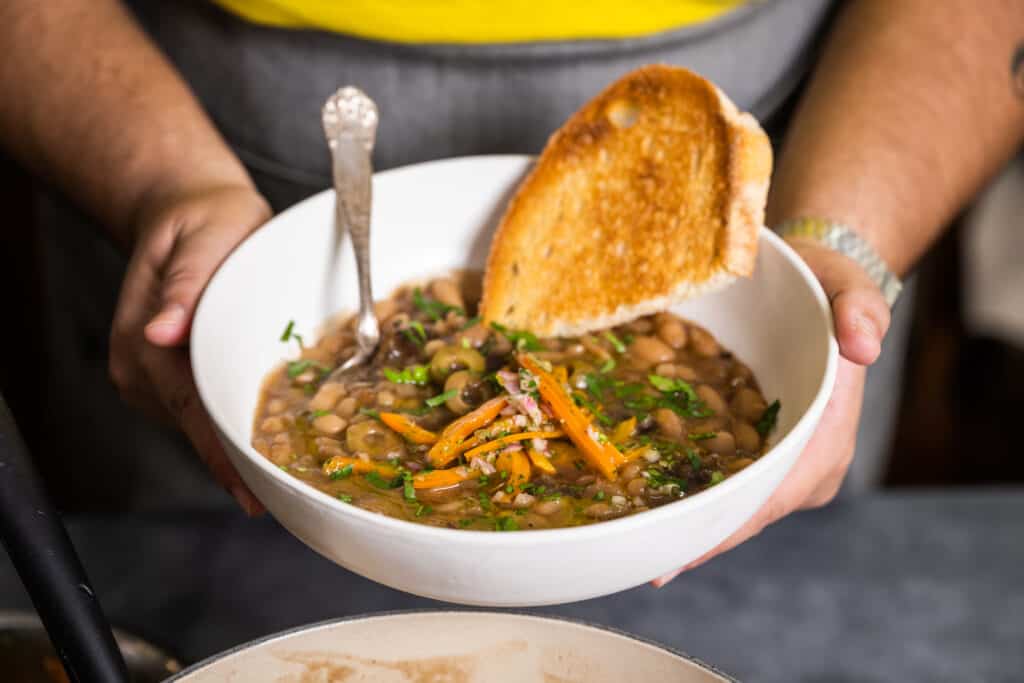 What is Beans Marbella?
Beans Marbella is a vegetarian riff on the classic dish, Chicken Marbella. Like the original recipe, it is cooked with wine, olives and prunes – giving the dish a very distinctive and appealing flavor.
Why is it called Chicken (or Beans) Marbella?
Despite the name, Chicken Marbella is NOT from Marbella, Spain. The recipe was created in the late 1970s in New York, and was first published in The Silver Palate cookbook! So why the name Chicken Marbella? Marbella is a coastal town in southern Spain, and the creator of the recipe was inspired by Spanish and North African cuisine.
What is The Silver Palate?
Sheila Lukins and Julee Rosso started a wildly successful gourmet take out shop on the Upper East Side called The Silver Palate. During the 70s and 80s, people were obsessed with Julia Child and French cuisine. The Silver Palate introduced their customers to various internationally-inspired ingredients and recipes. In 1982, they published The Silver Palate Cookbook – and the recipe for Chicken Marbella became a staple at chic dinner parties and fine dining restaurants across the Nation.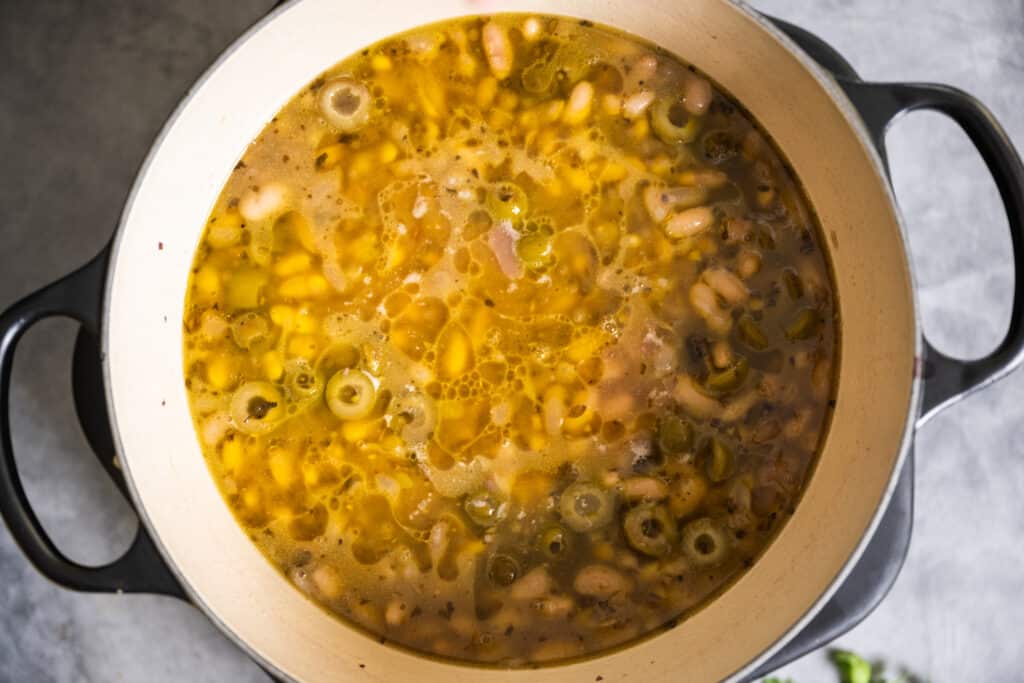 What does Beans Marbella taste like?
This dish checks all the right boxes. Creamy Marcella beans (if you can get your hands on the Rancho Gordo cult favorite), sweet prunes, briny olives, tangy garlic and capers are cooked in a wine and olive oil broth. The flavors meld together to create a dish that is perfectly balanced, and utterly irresistible.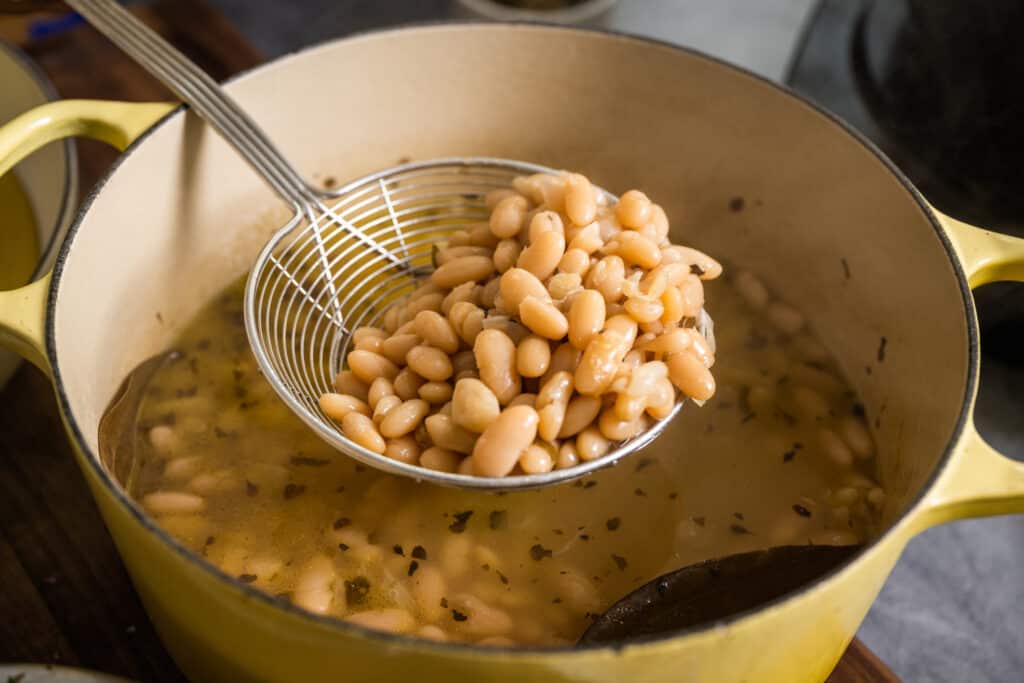 What type of beans are best for Beans Marbella?
We highly recommend ordering a bag (or two!) of Rancho Gordo's Marcella Beans. This heirloom Italian variety was named after Marcella Hazan, a famous Italian chef and cookbook author. They're thin-skinned and incredibly creamy.
If you can't get your hands on a bag of Marcella beans, you can use Cannellini or Great Northern beans.
Beans Marbella
James Collier
Inspired by a Beans Marbella recipe in The New York Times, this vegetarian take on the classic Chicken Marbella combines sweet California prunes, briny ripe green olives, red wine, marinated bell pepper and creamy white beans–all produced in the Golden State.
Prep Time
15

minutes
mins
Total Time
2

hours
hrs
15

minutes
mins
Ingredients
1

pound

dried white beans

Rancho Gordo Marcella, cannellini, great Northerns

Kosher salt and black pepper

1

teaspoon

dried oregano

2-3

bay leaves

1/2

cup

divided, plus 4 TBSP, divided, California extra-virgin olive oil

1

orange or red bell pepper

1

large shallot

diced

1

tablespoon

red wine vinegar

2

tablespoons

chopped capers

2

tablespoons

roughly chopped fresh parsley

4

cloves

garlic

chopped

1

cup

dry California red wine

½

cup

halved California green olives

½

cup

roughly chopped California prunes

Sourdough or country loaf

for serving
Instructions
Rinse and drain the beans. Cover them with water in a large pot or Dutch oven, season heavily with salt, then stir in the oregano, bay leaves, and ¼ cup of the olive oil. Bring the pot to a boil, then lower the heat and simmer until very tender, 1.5 – 2 hours.

While the beans cook, prep the marinated vegetables. In a small bowl, combine the sliced bell pepper, shallot, capers, chopped parsley, and red wine vinegar. Season with salt and pepper, then drizzle in 2 TBSP of the olive oil. Set aside.

Once the beans are tender, heat another 2 TBSP of olive oil in a separate pot or Dutch oven over medium heat. Sauté the garlic in the oil until fragrant and starting to color, then stir in the red wine. Simmer 5-10 minutes, until the wine has reduced by half. Use a slotted spoon to transfer the beans to the pot with the reduced wine, then add in two cups of the bean broth. Next, stir in the olives, prunes, and the remaining ¼ cup of olive oil. Bring to a simmer and cook, uncovered, until the flavors blend together and the sauce starts to thicken.

Season the beans again with salt and black pepper, as needed. Serve in bowls with a garnish of the marinated peppers, a drizzle of olive oil, and a slice of hearty sourdough or country bread!
Video
Nutrition
Calories:
218
kcal
Carbohydrates:
37
g
Protein:
11
g
Fat:
2
g
Saturated Fat:
0.3
g
Polyunsaturated Fat:
0.4
g
Monounsaturated Fat:
1
g
Cholesterol:
0.04
mg
Sodium:
167
mg
Potassium:
960
mg
Fiber:
8
g
Sugar:
6
g
Vitamin A:
543
IU
Vitamin C:
17
mg
Calcium:
130
mg
Iron:
5
mg
Keyword
baked beans, james collier, marbella, marcella beans, rancho gordo, Vegetarian
You tried our Beans Marbella…and now you're obsessed?
We're sure you're going to fall in love with this vegetarian take- so we're sharing all of our favorite riffs on the classic recipe.
Our friends at California Grown describe this recipe as "hearty, rich, and soul-satisfying". They're not wrong. Their take on Beans Marbella is topped with roasted fingerling potatoes and a tangy olive oil, vinegar and herb drizzle. Yum!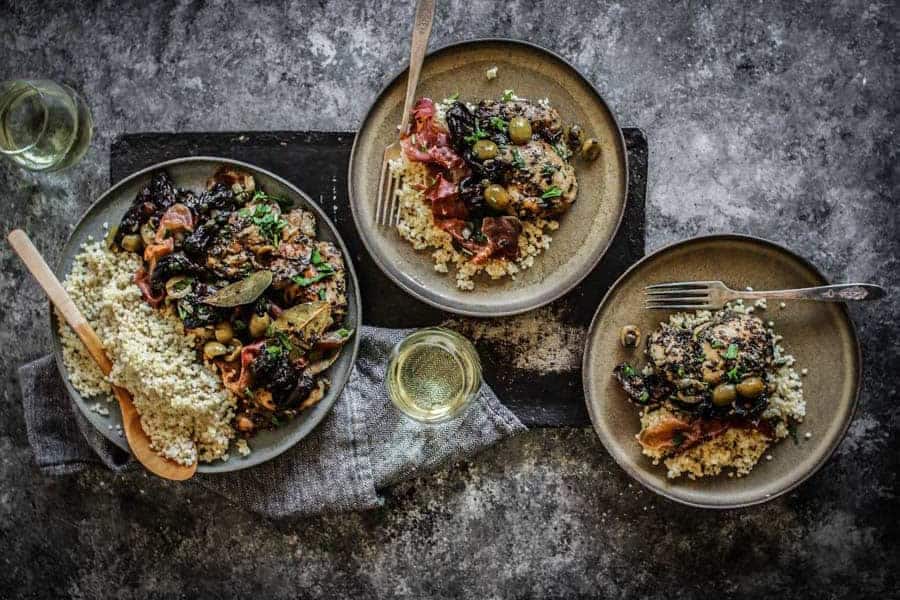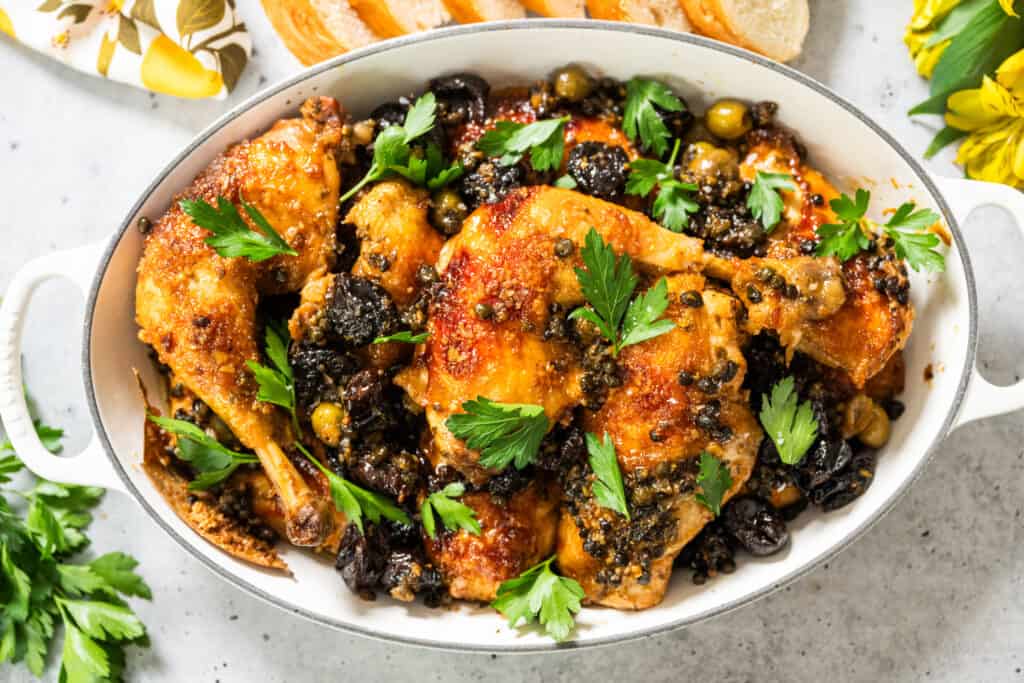 Looking for more delicious vegetarian recipes?
If you loved this dreamy bean stew, then you should definitely try these vegetarian recipes!
Sweet caramelized onions and gooey mozzarella pair beautifully with the earthy, rich flavor of California prunes in this fabulous flatbread recipe.
If you tried this recipe, then let us know! Or, maybe you've got a favorite recipe using California Prunes that you'd like to share with us? Snap a pic and share it on social using #caprunes.
Like what you see? Be sure to follow California Prunes on Facebook, Instagram, Pinterest and Twitter for more delicious recipes!