California Prune Orchards Record Full Bloom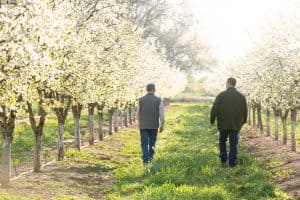 ROSEVILLE, CALIF. – April 6, 2020 – The California Prune Board reports a full bloom season underway for the prune orchards across the Sacramento and San Joaquin valleys.
The 2020 bloom in California Prune orchards was excellent with most growers observing a full bloom by mid-March. Weather conditions were ideal and bee activity was strong, which is great for pollination. Growers across California are carefully watching for the emergence of fruit from the flower jackets. They are optimistic that a very good, high quality crop will emerge.
"This year's bloom was strong and with cooler weather upon us, we are in a wait-and-see position to know just how the fruit set will look. The trees appear very healthy," says Joe Turkovich, Chairman of the California Prune Board. "Growers are out in their orchards regularly doing what they need to do in order to produce the premium fruit that California is known for."
The California Prune Board represents around 800 prune growers and packers, who harvest prunes from orchards covering nearly 46,000 of acres. As leaders in agricultural standards, honed from generations of expert craftmanship, California Prune farmers use an intricate drying system of climate-controlled tunnels to produce the premium dried fruit. The state supplies approximately 99 percent of the U.S. supply and 40 percent of the world's prunes, with California Prunes globally renowned for their size and sweetness, having thrived in the rich soil, lush valleys and long, warm seasons of the West Coast.
ABOUT THE CALIFORNIA PRUNE BOARD
Created in 1952, The California Prune Board aims to amplify the premium positioning and top-of-mind awareness of California Prunes through advertising, public relations, promotion, nutrition research, crop management and sustainability research, and issues management. The California Prune Board represents approximately 800 prune growers and 28 prune, juice, and ingredient handlers under the authority of the California Secretary of Food and Agriculture.
###
FOR MORE INFORMATION, CONTACT:
CALIFORNIA PRUNE BOARD
Kiaran Locy
Director of Brand & Industry Communications
Ph. 916-749-3442  |  klocy@prunes.local