Whipped Ricotta Appetizer Recipe with Bacon, Prunes and Pomegranate
This tangy whipped ricotta appetizer is so easy to whip up (see what we did there?). The sweet, spicy, and crunchy bacon + prune topping is the perfect medley of flavors to spoon over a cracker or crostini. Say hello to your new go-to appetizer!
What is whipped ricotta?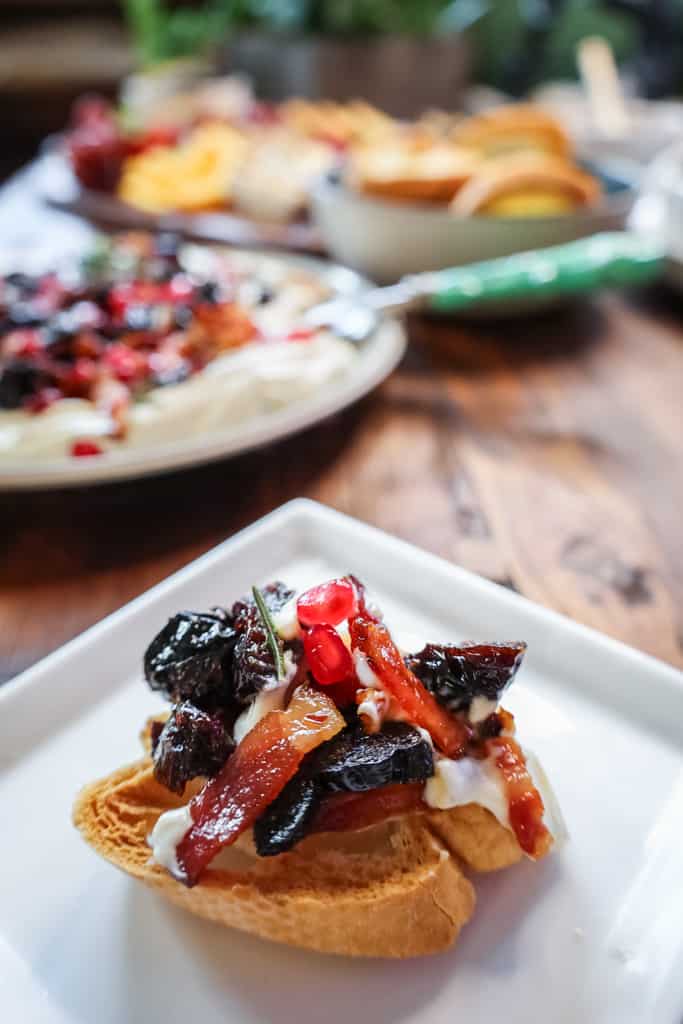 Whipped ricotta has been processed to achieve a smoother and fluffier texture. To make whipped ricotta, blend regular ricotta in a food processor or with an electric mixer. Sometimes it's necessary to add a small amount of liquid (such as milk or cream) to help achieve the desired consistency.
Whipping the ricotta introduces air into the cheese, making it lighter and more spreadable. This transformation enhances its texture, making it ideal for use in a variety of dishes, both sweet and savory. Whipped ricotta can be used as a versatile ingredient in cooking and baking. It's also a great topping or filling for dishes such as pastas, lasagnas, desserts, toast, or even as a dip for fruits or vegetables.
What does whipped ricotta taste like?
The flavor of whipped ricotta remains similar to traditional ricotta, offering a mild and slightly sweet taste. However, its light and fluffy texture makes it a favorite for creating dishes with a delicate and elegant presentation. Whether used in appetizers, main courses, or desserts, whipped ricotta adds a delightful creaminess and a touch of sophistication to a wide range of culinary creations.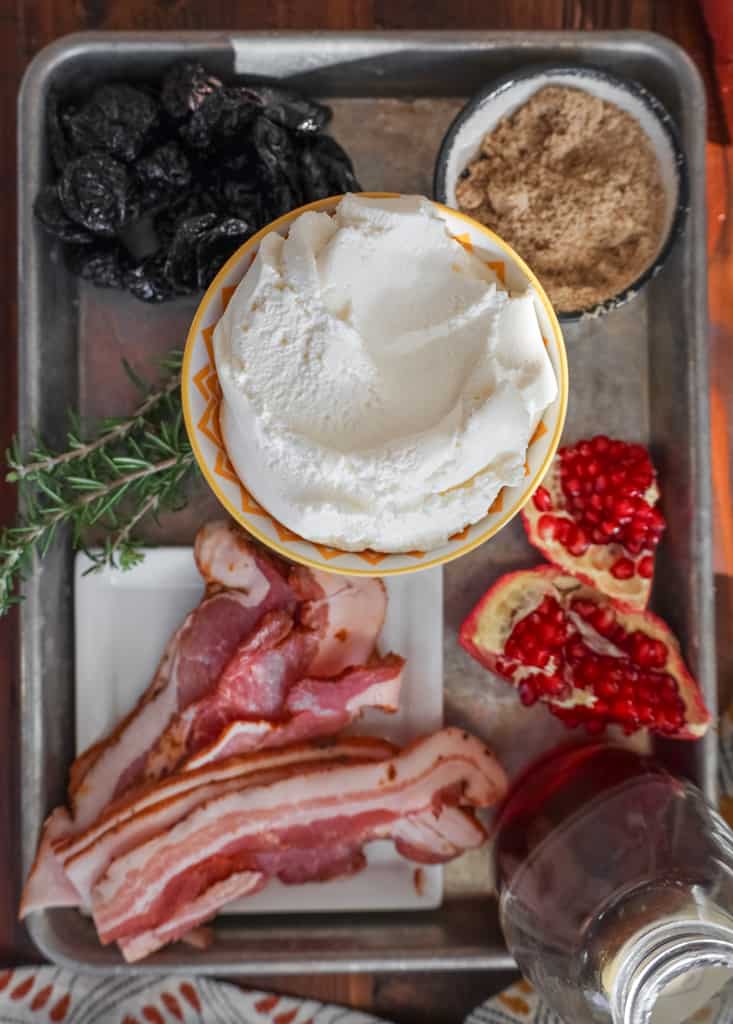 How to make this easy appetizer
Since whipped ricotta is a fairly neutral base, it is the perfect vehicle for our California grown ingredients. Here we've used bacon, candied with prunes, herbs, rosemary infused honey and a hit of cayenne. We sprinkled it with a bright garnet-colored pomegranate arils for both color and a necessary acidic bite. It makes an incredibly flavorful (and super easy!) appetizer — we recommend scooping it onto crackers or crostini.
Other Fabulous "Cheese on Toast" Recipes to Try with California Prunes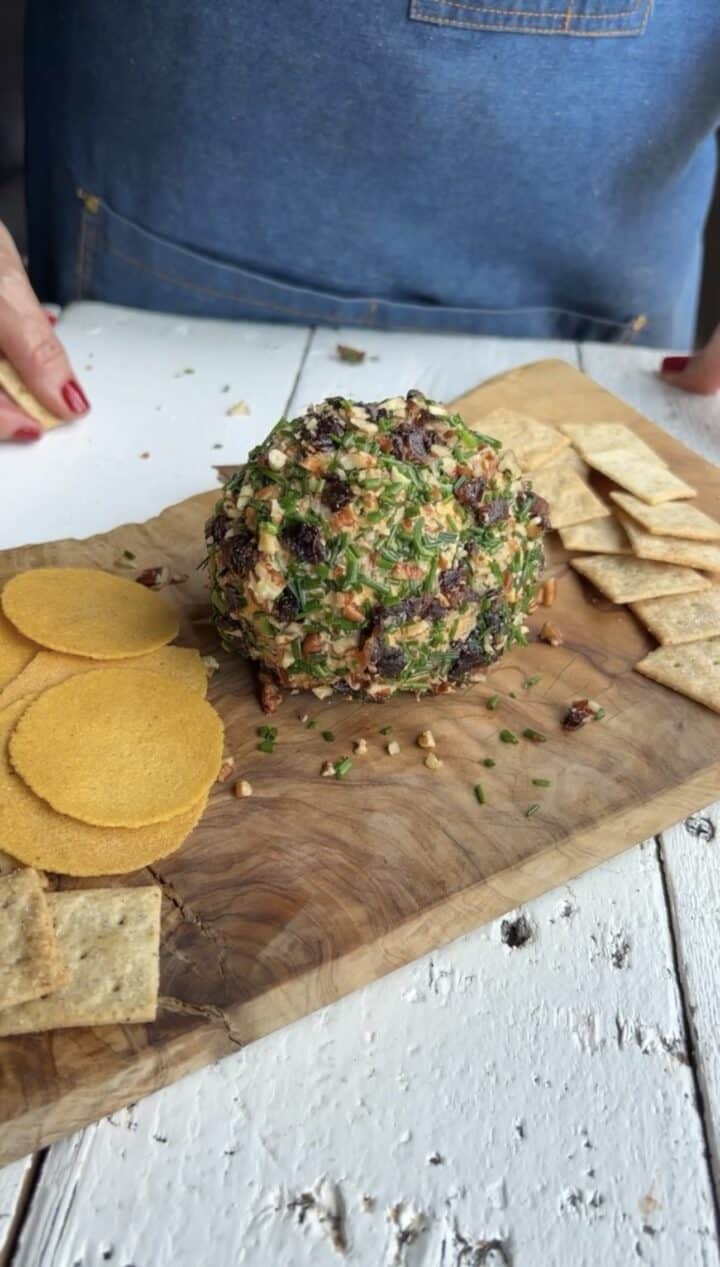 Classic Cheeseball Recipe
This classic cheeseball recipe from our friend Teri at No Crumbs Left brings back memories of holiday gatherings, school events, and those potlucks where everyone eagerly waits for its appearance.
Mediterranean Bruschetta
We love the fabulous flavors in this recipe. Because all of the ingredients used in this simple appetizer are always in season, you can make it all year round!
California Prunes, olive oil, walnuts, olives and lemons are just a few of the many commodities that are in season year round in the Golden State.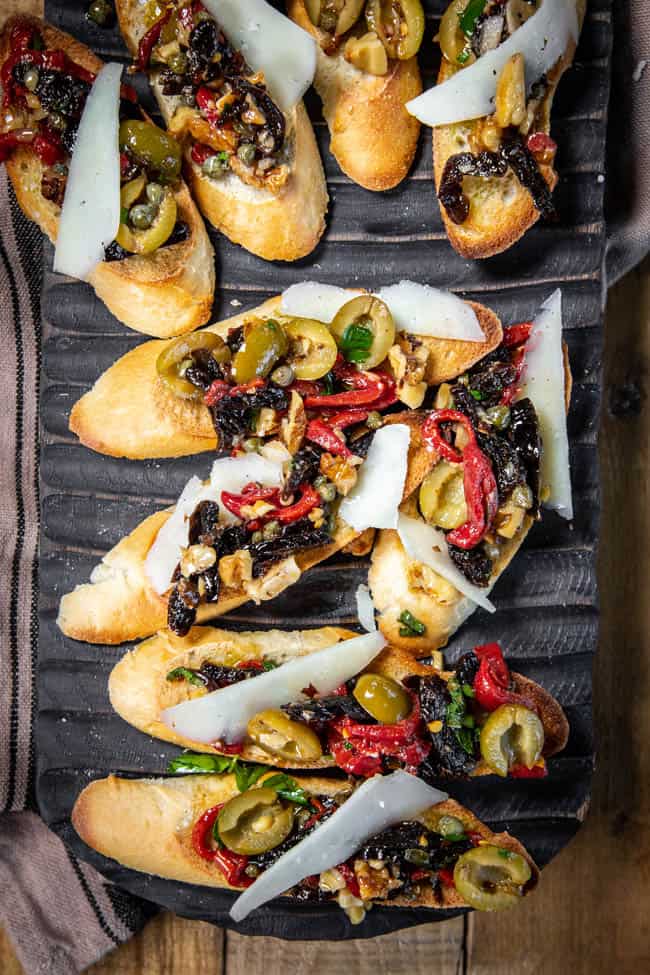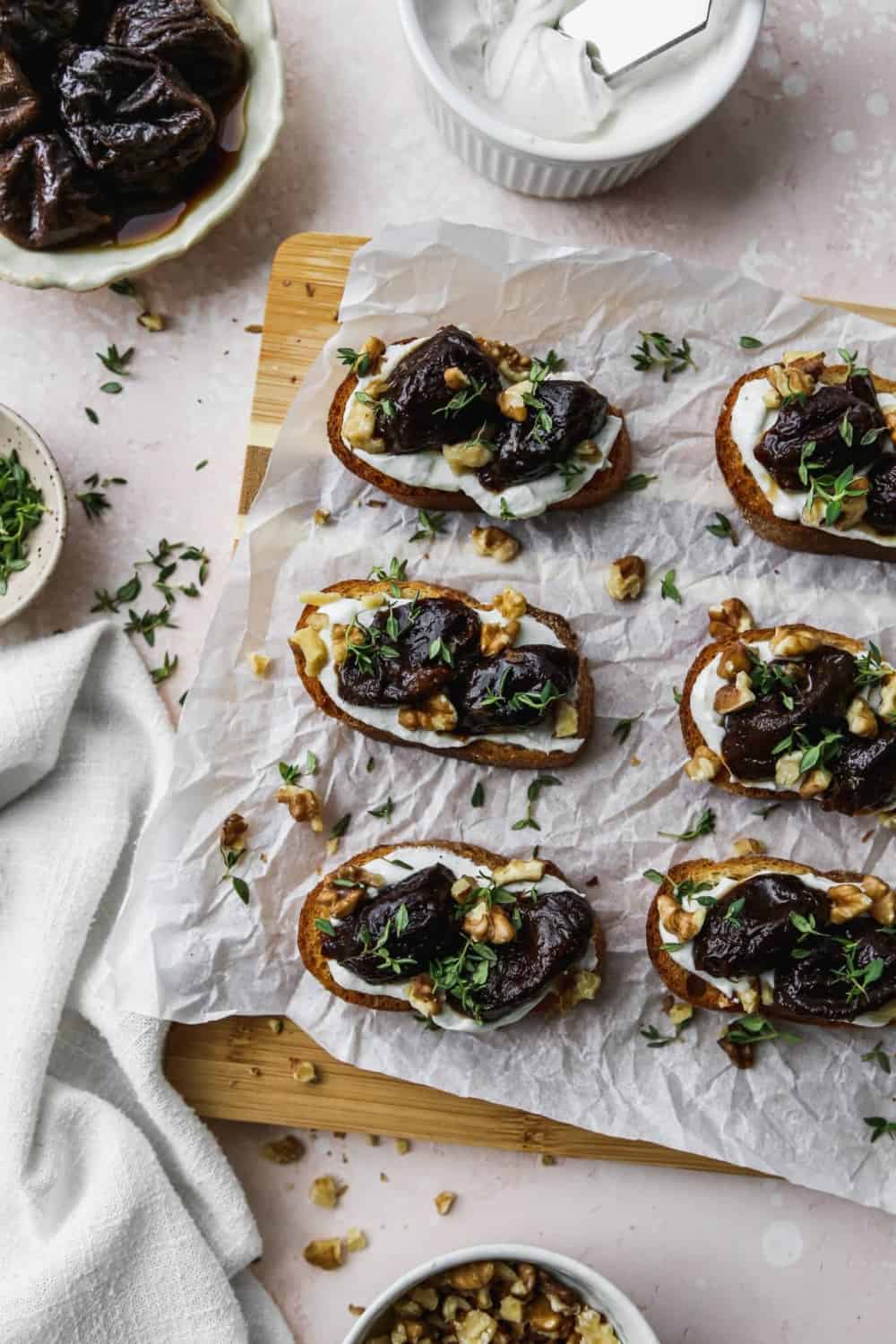 Whipped Goat Cheese Crostini
These whipped goat cheese crostini from Walder Wellness are topped with stewed California Prunes, walnuts, and thyme for an easy appetizer or snack idea. The recipe is sweet, savory, vegetarian, and absolutely delicious!
Whipped Ricotta with Bacon + Prunes
Alison Needham | A Girl Defloured
This tangy whipped ricotta appetizer is so easy to whip up (see what we did there?). The sweet, spicy, and crunchy bacon + prune topping is the perfect medley of flavors to spoon over a cracker or crostini. Say hello to your new go-to appetizer!
Prep Time
15

minutes
mins
Cook Time
17

minutes
mins
Total Time
32

minutes
mins
Ingredients
Candied Bacon and Prunes
4

slices

thick-cut bacon

chopped

1

tablespoon

fresh rosemary

chopped

2

tablespoons

light brown sugar

1/4

cup

honey plus 1 teaspoon

divided

¼

teaspoon

cayenne pepper

8-12

California prunes

quartered
Whipped Ricotta
1

cup

ricotta cheese

at room temperature

4

ounces

cream cheese

at room temperature

2

tablespoons

extra virgin olive oil

Flaky Sea salt

just a pinch

Pomegranate arils
Instructions
Preheat oven to 400°F and line a baking sheet with parchment paper or foil.

In a small bowl, combine ¼ cup honey, half of the fresh rosemary,a pinch of cayenne pepper (or use hot honey if desired), and a pinch of sea salt. Stir and let infuse while assembling the rest of the appetizer.

In a medium bowl toss together the chopped bacon, reserved rosemary, brown sugar, cayenne, and 1 teaspoon of honey. Toss to coat, then spread evenly in prepared sheet pan.

Scatter the prunes evenly around the bacon. Bake 15-18 minutes until the bacon is crisp, stirring occasionally if needed.

While bacon and prunes are baking, make the whipped ricotta. In the bowl of a food processor or stand mixer, pulse or mix the ricotta, cream cheese, olive oil, pinch of flaky sea salt until smooth and creamy.

Spoon cheese into a serving platter, using a spatula to create a whirled design on the cheese. Top with warm candied bacon and prune mixture and drizzle with some of the infused honey. Serve additional honey on the side if desired. Sprinkle with fresh pomegranate arils and serve with crackers or toasted baguette slices.
Nutrition
Keyword
bacon, california prunes, cream cheese, easy appetizers, honey, pomegranate, ricotta cake, whipped ricotta