Positively Prunes: April 2023
IN CASE YOU MISSED IT: PRUNE SUMMIT HIGHLIGHTS
Industry Comes Together for 2023 California Prune Summit
In March, the California Prune Board (CPB) hosted the 2023 Prune Summit, at the Orchard Creek Lodge in Lincoln, which served as a beautiful backdrop for this boutique industry to reunite in-person after three years since the last Summit in February 2020.
The event theme: "Future-proofing the California Prune Industry" brought together nearly 200 stakeholders in a variety of sectors to discuss the most prominent issues facing the industry and ways to support one another as we overcome these challenges while building up future generations to carry the prune industry forward in California.
The day began with a twist giving attendees a fun and delicious activity hosted by Leslie Bonci, a Registered Dietitian who has partnered with the California Prune Board for more than a decade and Kat Turner, a Los Angeles-based chef and restaurant owner who has been a partner of the Board for four years and consistently features California Prunes on her restaurant menu. The duo led attendees through a series of six unique pairings, from savory to sweet, and talked about culinary applications and nutrient amplifications that these powerful pairings bring to the table. The exercise woke up the palates of the guests and left them buzzing with ideas on how to creatively incorporate prunes into more dishes every day.
The first speaker of the day then took to the stage; Robert Fox of CoBank. In his remarks, Robert discussed the current state of the U.S. and global economies and how they are affecting the U.S. farm economy – specifically the California Prune industry. One takeaway he noted was that unlike some other tree crops, prune prices are holding steady because of their on-trend qualities (grab-and-go, plant-based, no added sugar, etc.).
Special guest speaker, Assemblymember James Gallagher addressed the room giving his perspective as part of a prune-growing family in Sutter County. Assemblymember Gallagher is aware of the challenges facing California agriculture and specifically the prune industry. He discussed the many ways he serves to champion these issues, namely relating to water, energy, and carbon emission regulation, in his role as the Assembly Minority Leader.
In a "Conversation with Industry Leaders" panelists George Sousa, Jr., President, Mariani Packing Co; Dane Lance, President & CEO, Sunsweet Growers Inc; and Jaswant Bains, President & CEO, Sacramento Packing shared their unique backgrounds and vision for the future with Donn Zea as moderator. As the most active and influential leaders within the industry, their companies are currently responsible for approximately 67% of California Prune volume shipments throughout the world giving them leading perspectives on navigating challenges and adapting to changing environments. The oversupply of the past several years has led to pressure on pricing and general equilibrium in supply and demand, putting the California Prune industry in a strong position. The focus for our industry is now to do everything we can to maintain the positive position we have for the next five years. The panelists' outlook is bright for prunes due to the premium quality product that California produces, the on-trend nature of prunes, and the energized next generation who will become the industry leaders of the future.
The Summit also addressed California's renewable energy and decarbonization goals in a looming issue about energy. A panel moderated by Trudi Hughes, President & CEO, California League of Food Processors, featured perspectives from Michael Boccadoro, President, West Coast Advisors; Emily Rooney, President, Agricultural Council of California; and CDFA Undersecretary Christine Birdsong. The group discussion involved diving deep into state legislative and regulatory requirements for electrifying agriculture operations in the future, and whether renewable energy technology would be able to support agriculture and food production operations in California. Cost, technological advancements and the feasibility of rollout are all top concerns that industry organizations and regulators are working to address and get in front of.
During the day's final panel discussion, prune grower Joe Turkovich moderated a conversation with a few of the industry's next-generation leaders including Matt Bozzo, Nick Cubre, Dave Van Groningen and Natalie Mariani Kling. All having grown up in the prune industry, the panelists each had unique perspectives on what it will take to not only survive but thrive in the coming decades of growing and marketing prunes in California. To them, the keys to success will be primarily around adaptation: adjusting operations to meet new regulations, embracing innovative technologies, optimizing farming techniques (pruning, tree spacing, etc.), and even testing new breeds of prunes. These up-and-coming industry leaders are positive, filled with hope and promise and are energized for what is to come.
CPB Chairman George Sousa, Jr. summarized the day by reminding the attendees that we have an amazing product and an amazing industry behind it. The more we can support one another and come together to face the challenges facing us, the better we can take them on, now and into the future.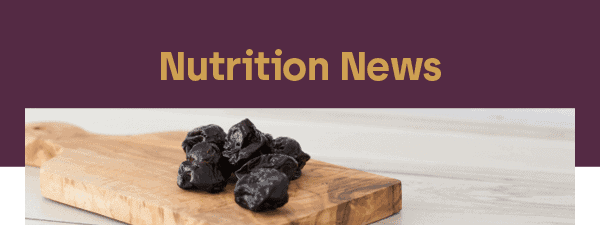 The Future of Nutrition Research
Much has been happening in the nutrition research program with more on the horizon. Here's a quick peak into some of the most recent activities and a bit on what's to come:
In January, a strategic planning meeting was held with the Nutrition Advisory Panel (NAP) to determine the near-term future of prune nutrition research through the lens of the Nutrition Research Roadmap (NRR). The experts and distinguished researchers on the NAP collectively help to guide the future direction of the nutrition research program and advise the CPB on specific projects and considerations.
The group reviewed the body of research to date and discussed potential for research underway to weigh in on future projects for the next couple of years. With NAP input on recommendations, the CPB's Nutrition Research Committee selected the following two near-term nutrition research projects to pursue:
Study the effect of prunes on calcium absorption in the body, retention in bone, and ultimately bone formation.
This research recommendation was modified from the NRR's recommendation "Confirm prune effect on bone separate from calcium, vitamin D and dairy".
The NAP advised there wasn't a need to study prunes separately from calcium and vitamin D as prunes and these two important bone nutrients may have a synergistic effect on bone status.
Conduct a short-term clinical feeding trial to investigate any presence of a prebiotic prune-positive effect on gut inflammation and bone biomarkers.
This research project is directly from the NRR's recommendations.
---
Published Research – Recent & Upcoming News 
As staff tracks the publication of research in the pipeline, a third scientific paper to come out of The Prune Study, Prune supplementation for 12 months alters the gut microbiome in postmenopausal women, was published in late 2022. In this paper the research team, led by Penn State's Dr. Mary Jane De Souza, reported that prune consumption appeared to favorably modify the gut microbiome and correlated to lower markers of inflammation. To learn more, check out this article from Medical Dialogues highlighting the findings.
We expect two more papers to come out of The Prune Study before the end of 2023. The first will address the effect of prunes on bone strength. The second will take a deeper look into whether prunes impact the inflammation associated with postmenopausal bone loss.
We have been working diligently to get the word out to the trade and registered dietitians about the body of nutrition research that has revealed the many health benefits of prunes. Here's a sample of activities for 2023:
In January we traveled to Japan to educate the Japanese trade about the nutritional power and health benefits of California Prunes.
In early May we're hosting an online seminar for Canadian dietitians to supply them an overview of prune nutrition research to date.
Later in May, prune researcher Dr. Connie Rogers, will focus on the effect prunes have on the kind of inflammation associated with postmenopausal bone loss at Today's Dietitian Spring Symposium in Savannah, GA.
There is much more to come in the realm of prune nutrition so stay tuned for more.
MARKETING UPDATES
California Prunes Show Up Strong in Good Housekeeping
Long-time California Prunes' spokesperson and registered dietitian, Leslie Bonci, is a reliable and sought-after resource for the Good Housekeeping editorial team – helping to deliver big-time coverage for California Prunes. Good Housekeeping has been singing the "prune tune" lately, sharing highly favorable, in-depth coverage about California Prunes in two national articles, including: 7 Top Health Benefits of Prunes and 7 Uses for Prune Juice for Constipation.
The relationship with the Good Housekeeping editors has been cultivated over time with ongoing media outreach, editor participation in California Prunes' events, and continued nutrition expertise provided by Leslie. Good Housekeeping is a top-priority media outlet for California Prunes due to its popularity with the California Prunes' target audience, extensive national reach of over 50M, and high-quality editorial coverage related to food and nutrition topics. Enjoy!
---
California Bountiful Connects Prune Growing to Prune Eating in Farm-to-Fork Feature
In a recent partnership with California Bountiful, the broadcast TV show produced by the California Farm Bureau, taste and versatility of California Prunes were on full display as part of the "Good Every Day In So Many Ways" campaign effort.
Director of Brand and Industry Communications, Kiaran Locy, teamed up with YouTube chef, Jerry James Stone to spotlight the unique qualities of the fruit and their versatility with two unique recipes – Chocolate California Prune Ice Cream and a California Prune Savory (vegan) Salami.
The segment aired on April 1 in markets throughout the state reaching roughly 20,000-25,000 viewers and is now posted on the show's YouTube channel to reach another 10,000 subscribers. Additionally, a half-page ad for California Prunes will be featured in the May/June issue of the California Bountiful magazine and in California Bountiful's weekly newsletters from May through July this year.
To watch the segment, please visit California Bountiful's YouTube Channel and click on "California Prunes".
A Fresh Approach in Japan
This Spring the CPB launched a new high-profile, multi-channel marketing campaign in Japan – the biggest export market for California Prunes. The CPB's new marketing strategy capitalizes on more than 30 years of brand awareness activity in this market, where California Prunes are prized for their nutritiousness, versatility, and provenance. In partnership with a new consumer agency in Tokyo, McCann Erickson, the team developed the commercial and presented the strategic marketing campaign and creative to key Japanese trade at a January dinner in Tokyo.
The TV commercial launched in April, kicking off the Spring media campaign of TV ad digital through May, the peak selling season for California Prunes in market.
The ad, intended for Japanese audiences, focuses starting a healthier lifestyle with California Prunes called "Let's Pukatsu!!" which promotes a healthy lifestyle that can be easily started with premium quality California Prunes.
With Pukatsu, you can enjoy guilt-free snacking and support your digestive system and bone health. As the tune in the commercial provokes, "why not try incorporating California Prunes into your daily routine and start your Pukatsu journey today? "
Alongside the TV/Digital media Spring flight, we have launched a Social Media promotion on Instagram and Twitter in Japan using the Pukatsu theme and Point-of-sale materials have been issued to the trade for use during the Spring flight.
WATCH THE 15-SECOND SPOT
---
California Prunes help fuel leading Italian athletes to success
Elite Italian athletes Gabriele Detti, Elena Bertocchi, and Simone Giannelli have just wrapped up a promotional campaign championing the nutritional and versatile benefits of California Prunes, which play an active role in preparation for their respective training and sporting events.
The link up with the California Prune Board (CPB) and the cream of Italian water sports and volleyball is part of a drive by the CPB to showcase how shelf-stable prunes can be eaten by people of every age and every stage of fitness as a nutritional snack or even as a versatile cooking ingredient.
Packed with fibre and a range of vitamins and minerals, California Prunes have long been renowned for the role they play in maintaining healthy bowels. Prunes are also naturally high in potassium, which contributes to the maintenance of normal muscle function, and have a low glycaemic index thanks to the composition of their carbohydrates, which makes them ideal for workouts involving prolonged exertion.
Diver Elena Bertocchi, swimmer Gabriele Detti and 2022 World Champion volleyball player Simone Giannelli (pictured) have been sharing the benefits of consuming California Prunes as a pre and post-training snack and ingredient across their social media channels. For athletes constantly training at high intensity, prunes are also an easy way to increase the consumption of vitamin K and manganese, both of which play a role in the maintenance of normal bones.
Dr. Annamaria Acquaviva, dietitian and nutritionist for the CPB, explains: "Playing sports and maintaining an active lifestyle is very important for overall wellbeing and maintaining healthy bones. California Prunes are an excellent resource for providing the important nutrients needed to both maintain bone density and prevent bone loss as well as other vitamins and minerals that contribute to overall health."
Esther Ritson-Elliott, Director of International Marketing and Communications for the CPB adds: "Working with leading Italian athletes like Gabriele, Elena and Simone has helped us to demonstrate the benefits California Prunes can have as part of a balanced diet as well as their versatility in use as a snack and an ingredient. Italy is a key market for the California Prune Board, and we've welcomed the opportunity to work with all three athletes to showcase our premium prunes."
---
California Prune Board welcomes 0% tariff announcement on import of prunes
The California Prune Board (CPB) has welcomed the UK Government's decision to suspend the UK import tariff on dried prunes (commodity code: 08132000).  Effective from 1 January 2023, the suspension sees the removal of the 8% tariff until at least 31 December 2024. This follows an application led by the CPB through the Nut & Dried Fruit Trade Association (NDFTA), on behalf of its UK trade members.
The decision gives UK dried fruit importers greater choice and is likely to be welcomed by importers looking for a premium quality and great tasting product, underpinned by the reliability of supply California is renowned for.
California offers exceptional growing conditions, high agricultural standards, and sophisticated harvesting and drying techniques, all of which contribute to high-quality, naturally sweet prunes and make the US the world's largest premium producer.
Esther Ritson-Elliott, Director of International Marketing and Communications for the California Prune Board (CPB), says: "Removing the tariff gives our industry a level playing field, and UK trade access to premium, greater tasting prunes that will appeal to consumers. Supporting the UK trade, the CPB invests significantly in marketing to raise brand awareness of its prunes in the UK, with a series of promotional activities including PR, advertising, and social media campaigns. The Board also leverages its brand ambassadors – chef and TV presenter, Peter Sidwell, and registered dietitian and professional nutritionist, Jo Travers – to further showcase the nutritional and taste benefits of its produce."
The nutritional profile of gut-friendly California Prunes has been further under the spotlight of late, thanks to the effects their consumption can have on supporting good bone health. High in vitamin K and as a source of manganese, which contribute to the maintenance of normal bones, California Prunes this year won the seal of approval from the Royal Osteoporosis Society, which awarded the California-origin dried fruit its coveted 'Bone Health Approved' accreditation.